MCGI ARTICLE
MCGI grants wishes of Ecuadorian breadwinners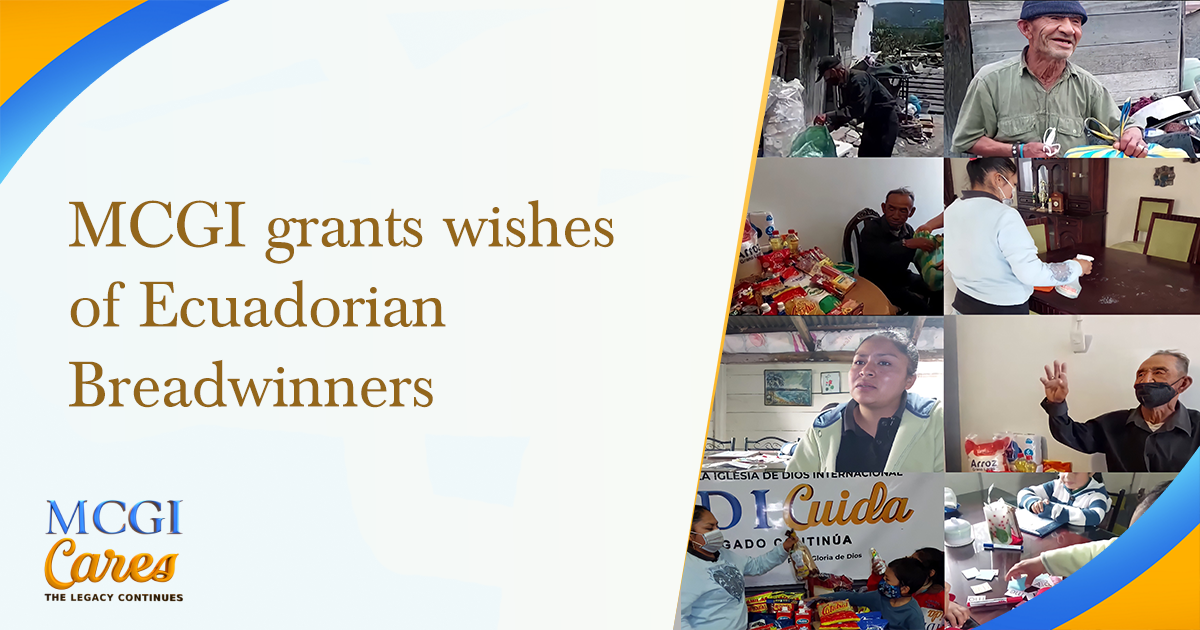 The Members Church of God International (MCGI) untiringly continues their various charitable endeavors across the globe with God's help. In Latin America, particularly in Ecuador, two breadwinners recently benefited from the Church's Wish-granting activities.
A senior citizen wished for food and groceries for his niece. Meanwhile, a single mother requested a gadget that her children can use for their virtual learning needs.
A wish for his niece
Enrique Paredes is a senior citizen residing in Quito, Ecuador. Around 15 years ago, he took responsibility of taking care of his niece who had been orphaned. "I am living in a tiny room, together with my niece," he shared. 
Through his earnings from collecting and selling garbage and occasional cash vouchers from the government, he is able to fend for himself and for his niece.
Apart from his meager income, the health condition of his niece is another challenge that Enrique faces. He shared that his niece used to behave normally until she suddenly developed a mental illness.
While others became elusive to her, Enrique continues to work hard to provide for her and for himself. To augment their needs, he expressed a simple wish: to be given grocery items that they can consume for a few weeks. 
MCGI gladly granted this wish and more. God willing, the Church committed to regularly provide them with goods from the MCGI Free Store.
For the fulfillment of his humble wish, Enrique has this to say: "I am very happy. May God bless you."
A gadget for her children
In Cuenca, Ecuador, the MCGI brethren reached out to Anna Patricia Cabrera, 26, a single mother of two.
When the Covid-19 pandemic hit in early 2020, she quit her job as a seamstress in a factory in order to take care of her children. Since then, she has been taking on different jobs — from cleaning houses to ironing clothes, among others.
The income that she earns is usually just enough for her family's expenses. A tablet that her children can use for their online classes is already beyond what she can afford.
Previously, her children only relied on Anna's mobile phone to attend their classes. Because of it, they have to take turns — forcing them to skip some of their subjects.
This prompted Anna to request a tablet that her children can use. With God's help and mercy, her wish was granted by MCGI.
She and her children were invited to the Church's coordinating center in Cuenca, Ecuador, where they received the brand-new tablet. They were also given free grocery items from the MCGI Free Store and were fed a sumptuous meal.
"Thank you because now, my brother and I can attend our classes. Thanks be to God that He gave us this," Layla, one of Anna's children, enthused.
*******
With the help and mercy of the Almighty, MCGI's charitable acts are sustained worldwide. Guided by the Holy Scriptures, the Church perseveres to be a small instrument in letting God's love and kindness be felt, especially by those who are in need. 
"Because I delivered the poor that cried, and the fatherless, and him that had none to help him." — Job 29:12, King James Version
"For he shall deliver the needy when he crieth; the poor also, and him that hath no helper." — Psalms 72:12, King James Version
To God be the glory!
For more information regarding the MCGI Free Store and other charitable works of the Church, please visit www.mcgi.org/charities.