MCGI ARTICLE
MCGI and UNTV's Relief Operation in Albay: Over 1,000 Residents Receive Help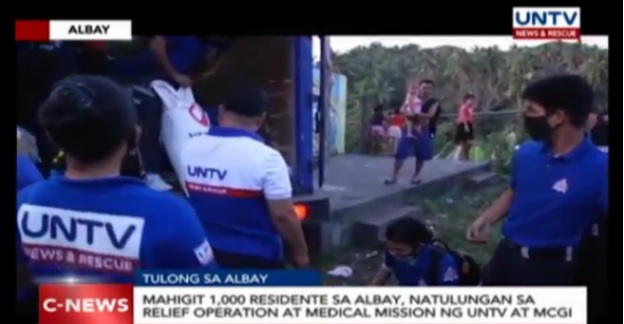 The Members Church of God International (MCGI), together with UNTV News and Rescue, has carried out a relief operation and medical mission in Albay to help those who were displaced following the volcanic eruption of Mt. Mayon.
More than a thousand residents in Camalig, Albay receive the free services provided by the religious organization and UNTV during the relief mission conducted during the last week of January this year.
The MCGI-UNTV relief operation and medical mission came after learning that the local government unit in Albay was accepting assistance and donations from private organizations, companies and citizens.
Around 70,000 residents in the province of Albay were evacuated and stayed in evacuation centers due to the continuous eruption of Mayon Volcano.
According to the Office of the Civil Defense Region 5, the local government of Albay, Department of Social Welfare and Development (DSWD), Department of Health (DoH), Department of Education (DepEd), and other agencies there were already PhP100 million (US$2 million) allotted for the welfare of the affected residents.
Still Not Sufficient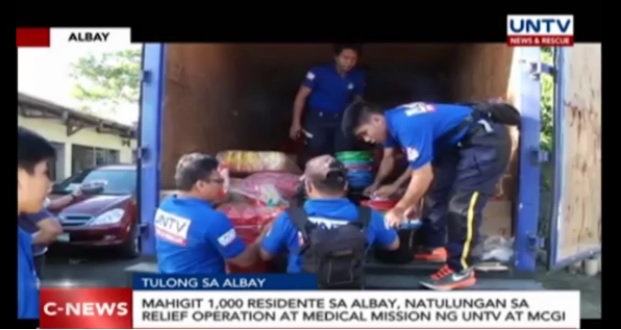 Some residents complained of the insufficiency of the supplies provided for them in order to meet their daily needs.
Josefina Moratalla, a resident of Brgy. Tumpa in Camalig, Albay, was among those who were worried on how she could make both ends meet to feed her family and provide for their other basic necessities.
Ms. Moratalla said that they have been staying for almost 15 days in Talandong Elementary School, which is the nearest evacuation center in her area. She added that some of the residents, including herself, visited their homes from time to time just to get something that they can use on a daily basis.
Another resident, Maricris Solano, shared similar grievances with Ms. Moratalla, saying that it is quite difficult to feed her one-year-old child due to inadequate supply of water.
For this reason, several people, including Ms. Solano, were grateful for the relief operation organized by MCGI, UNTV, and Kamanggagawa Foundation International.
The relief package given and distributed to each displaced families includes: 3 kilos of rice, sotanghon noodles, hygiene kits, and drinking water.
Free Medical Mission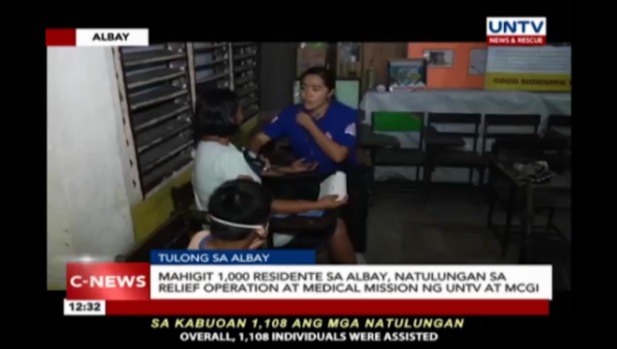 Aside from the relief operation, the MCGI-UNTV public service include a free medical mission conducted in the following areas: Anoling Elementary School, Brgy. Tagaytay, and Taladong Elementary School, Brgy. Taladong, both in Camalig, Albay.
The residents of these towns said they very much appreciated the help they have received from MCGI and UNTV, in spite of the town's distance from the location of the free public service.
In all, there were a total of 1,108 individuals who benefitted from the relief operation and medical mission in the two areas of Camalig, Albay.
Written by: Samantha Baluyot