MCGI ARTICLE
The Most Wonderful Times of the Year for MCGI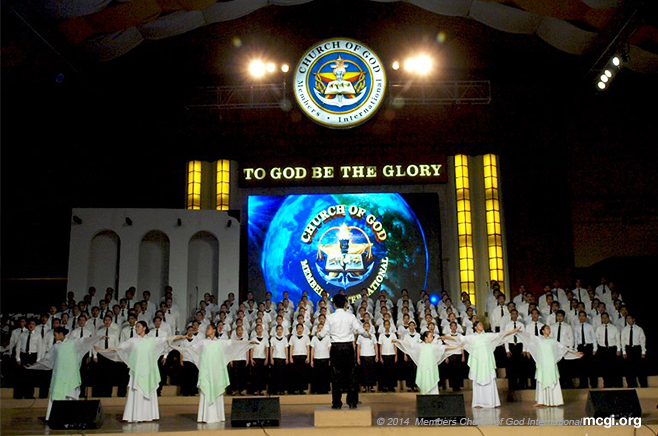 Pampanga, Philippines – For the Members Church of God International, the most wonderful times of the year is marked by expressing eternal gratitude to the Holy Creator.
This is why for this group of joyous Christians, the year is brimming with wonderful times and not just one.
Internationally known for the only congregation that incessantly acknowledges God's goodness through weekly and grand quarterly thanksgiving ceremonies, MCGI ends the year the Christian way. On December 25, 26, and 27, the Church will be offering its fourth quarterly International Thanksgiving to God. On a global scale, the brethren will embark on long journeys to convene and express their gratitude to God.
While others will be busy opening store-bought gifts, MCGI shall open and revel in the best gift one could ever get — the understanding of God's wondrous words and His never-ending blessings.
Remarkable Bible Exposition Numbers
The Church's widely popular Grand Bible Expositions have reached epic proportions — and year 2009 has witnessed it firsthand. For every week since January, two to three Bible Expositions have been undergoing in the Philippines and abroad. An impressive average of 130 Bible Expositions have been held in 2009 alone.
MCGI Presiding Minister Bro. Eliseo Soriano together with Vice Presiding Minister Bro. Daniel Razon spearheaded this regular Church activity where visitors of all religions and races are welcome to ask any question regarding the Holy Bible — all while getting a copy of the Holy Book and a meal for free. Once popular only in the Philippine archipelago, this Bible-based question-and-answer event have infiltrated the worldwide scene during the early 2000s. Currently, the Church's Bible Expositions being hosted by Bible Scholar Bro. Eli Soriano are being watched and participated in by people all over the world via the Internet.
Relief Operations and Charitable Works
One of the Church's primary teachings is to help those who need it most. And when Typhoon Ketsana struck the Philippines on September 2009, MCGI was quick to help out the victims of this calamity. With it being the worst tropical depression ever to hit the country in years, the Church exerted all its efforts as relief operations to the disaster-struck were put into action. The Church-supported Kamanggagawa Foundation Transient Home served as a second home for the homeless during those trying times, and housed a total of 600 typhoon victims on the month of September alone.
Aside from relief operations, the Church has been steadily providing charitable help via its free medical and legal assistance, bus rides, MRT rides for senior citizens, college scholarships, and blood donations.
Prestigious Web Awards and Nominations
Though relatively young in the World Wide Web, Bro. Eli Soriano's Bible-based blog Esoriano.wordpress.com has already taken the People's Choice Award and the Most Popular Web Site Award in the distinguished Philippine Web Awards this year. This award-winning blog has undoubtedly made waves in the Philippine web community.
But trust Bro. Eli's sensible blog to find a great spot in an international awards-giving body.
November marked Bro. Eli's blog site as one of the top finalists in Mashable's prestigious third annual Open Web Awards. This international and multilingual online voting contest honors top websites in various categories whose past winners include famous sites such as Facebook, Twitter and Google. Nominated in the Most Educational to Follow category, Bro. Eli's is the only Filipino blog in the whole prominent awards body — giving Filipinos all over the world one more reason to be proud.
As the year winds down and a new year comes rushing in, the Members Church of God International will welcome it exactly the same way they ended it – with eternal gratitude to God while anticipating more wonderful times to come as calendar dates change.
(Written by: Pol Arellano)