MCGI ARTICLE
Spreading Cheer through Charity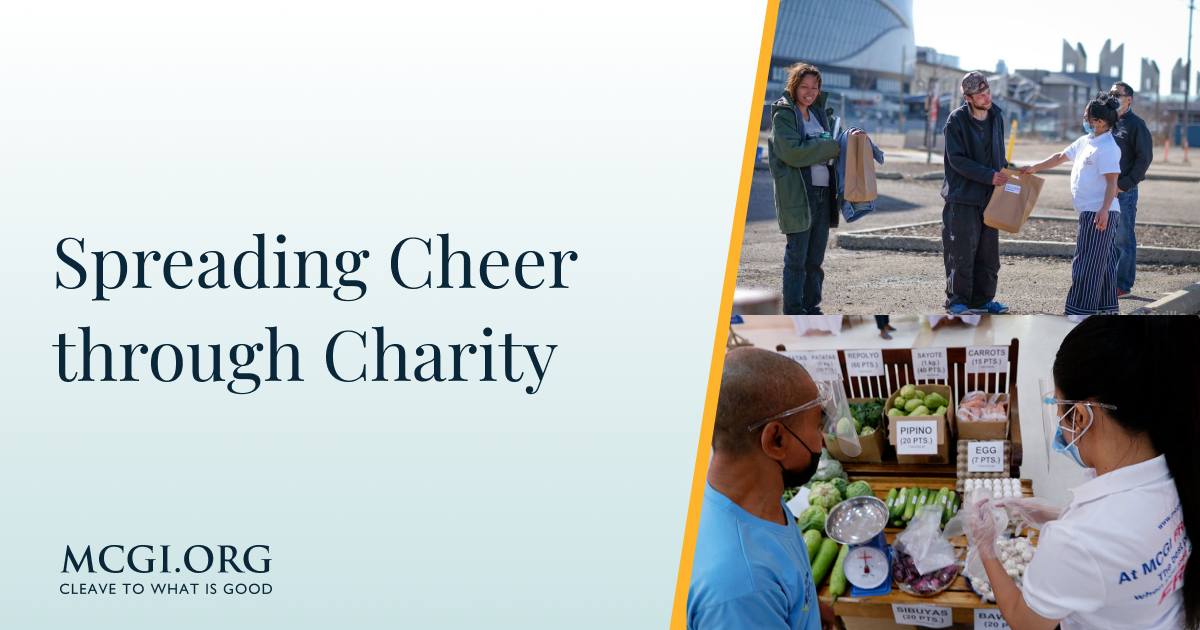 In a difficult time such as this, a single act of kindness can turn hopelessness into cheer.
This is what the Members Church of God International (MCGI) is continuing to do with God's help. As the Covid-19 pandemic continues to seize the world with fear and anxiety, this creates more opportunities for the Church to expand its charitable outreach programs, with the aim of bringing hope and comfort to people who feel desperate and problematic. 
Igniting the spirit of sharing and volunteerism
After the global launch of the MCGI Free Store, many have followed suit and started setting up their own 'free store' and 'community pantry.' The number of individuals and organizations volunteering and contributing their resources have increased since the free store was introduced.
As many non-MCGI individuals and groups have expressed their intention to donate goods to the MCGI Free Stores, Bro. Daniel Razon is now considering a new initiative which will be called the MCGI-Inspired Free Store. Instead of accepting their donations and making them part of the goods available in the MCGI Free Stores, Bro. Daniel said, "We will just help them to organize their own free store, an MCGI-inspired free store."  This is in keeping with MCGI's adherence to what was written in 3 John 1:7.  All the goods, assistance, and services that the group offers to the needy come exclusively from the bonafide members of the Church of God International, and not from non-members. 
Nevertheless, the staff and volunteers of the MCGI Free Store will provide the non-Church members with a proper orientation on how to run their own free store systematically.
LGU employees served with healthy snacks
A bowl of hot soup and crunchy fried spring rolls were served to the employees of the city of Malolos in Bulacan during the feeding program spearheaded by the brethren in the Church of God International. Employees who had to remain in their stations were delivered food by their fellow employees.
Mr. Rommel dela Cruz praised the feeding program, saying that even those who have no money can have warm and healthy snacks for free.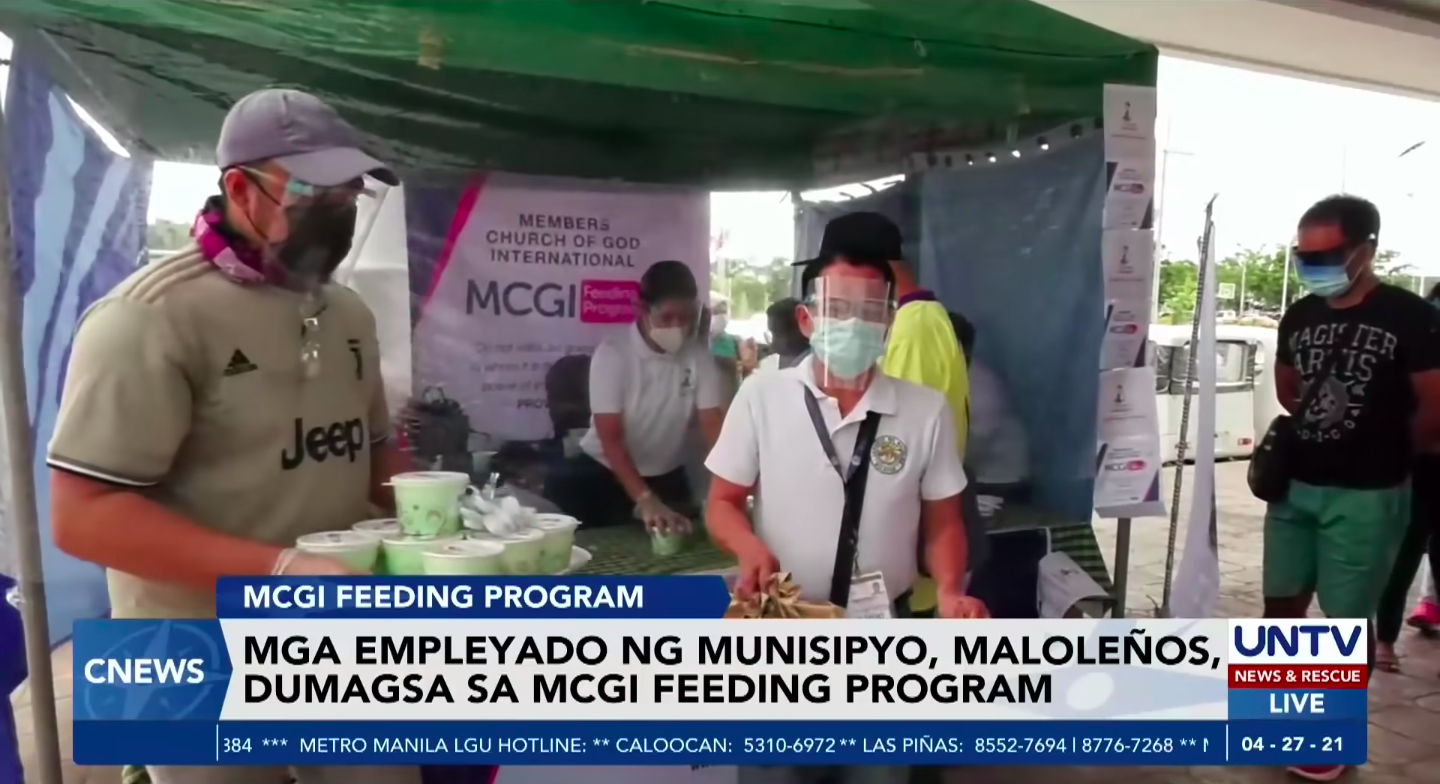 A mother and her daughter who had seen the makeshift food stall but thought it was only for the city employees were surprised to be offered snacks for free. "Thank God, I am now full. I thought we had to pay. I'm happy there are still people with good hearts who are ready to give a helping hand to poor people like us," the mother said.
Moreover, Mayor Gilbert "Bebong" Gatchalian said he was inspired by the endeavor MCGI is doing. He says the feeding program not only nourishes the physical well-being of the people, but also inspires others.
Charity without borders
Helping anyone in need, regardless of race, religion, gender, or social status, is one of the core principles of MCGI's public service programs.
With God's help, MCGI has held several feeding programs in 560 locations worldwide. Free breakfast was served to beneficiaries, including a Muslim community in the Philippines. A member of the community, Aslani Pangandaman, was thankful for the meals they can eat when they break their fast for the day.
Malolos City Mayor Gilbert Gatchalian noticed the well-thought food pairing offered in the program which, according to him, is "proof of the group's intention to help and express their overflowing love to our fellowmen." MCGI's feeding program caught the attention of government officials since its inception last March.
FO1 Godofredo Rosaros Jr., a firefighter based in Bataan, sees the program as an inspiration to keep up with their duties as frontliners. Apart from government employees and frontliners, the program volunteers also gave away free meals to street-dwellers, drivers, ambulant peddlers, pedestrians, and even to residents of far-flung places.
The organizers intend to expand the program's reach and serve more people in the future, with God's help and mercy.
Small business grant for the glory of God
Another set of individuals received livelihood assistance through the Wish-Granting program of the Members Church of God International.
 Florentino and Liberty Garay of Matnog, Sorsogon expressed their thankfulness for the grocery items they received to start a sari-sari store. Florentino's earnings isn't enough to sustain their needs as his source of income had been badly hit by the pandemic, while his wife discontinued her work as a school teacher after she gave birth to their youngest child.
"Kuya Daniel, salamat po sa Panginoong Dios, ipinagkaloob na po sa aming mag-asawa ang aming munting pangarap. Sana loobin po ng Panginoong Dios na ito'y aming mapalago upang kahit papaano ay hindi lang sa amin ito makatulong kundi sa aming kapwa-tao rin po. Salamat po sa Panginoong Dios," remarked Florentino. (Kuya Daniel, thanks be to our Lord God, our small wish has been granted. May God will it that our business prospers so that we may be able to help others also. Thanks be to the Lord God!)
Others who have received business packages and startup capital for small businesses include Vilma Flores, Rey Paulino, and Lolita Celestial.
Meanwhile, Thomasa Bunhian, a dressmaker from Bakir, Nueva Vizcaya requested for additional capital for fabric so she can continue with her small business of making beddings and curtains.
Kuya Daniel Razon promised to grant her small wish as soon as possible. "Loobin po ng Panginoon, 'yang inyong munting pangarap ay makarating sa inyo agad diyan sa Nueva Vizcaya. Sana makatulong po sa inyo [ito] sa pagtataguyod po ng inyong pamilya. May awa po ang Dios. Samahan nawa kayo. (God willing, your small wish will be delivered very soon. I hope it can help you support the needs of your family. God is merciful. May He guide you all.)
Every week, MCGI provides livelihood assistance to brethren whose businesses and sources of income were affected by the pandemic.
First sip of clean water
For 30 years, the Aetas living in Sitio Bagingan in Capas, Tarlac had to be content with the water supply in a nearby creek.
"We use the water there to wash our clothes, bathe, wash dishes, cook," says resident Shirley David.
Residents often get sick for drinking the water from the creek but that is the only water source they have. To get clean drinking water, they have to pay Php 200 (4$) for a few gallons, not to mention the steep road they have to tread just to get to their water source. Jonel Sanchez, a father of five, says that it is a challenge for him to buy water with an income that is below the livable level.
"When we bathe in the dirty creek, our skin gets itchy," lamented Benjie David, another resident.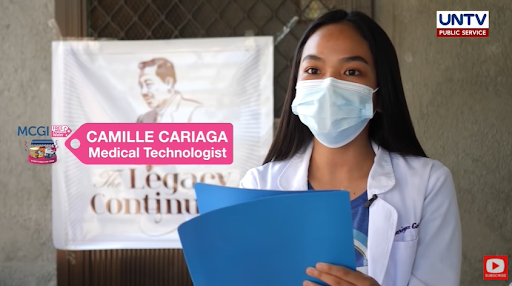 This is why their community was chosen as one of the beneficiaries of the MCGI Potable Water Project.
"Thanks be to God [that] you extended help to Sitio Bagingan. Thank God, we will not have water problems anymore," says Aeta Leader Pilot Tarosa.
The water from the newly-built artesian well passed the potability test. Residents were also provided with new water containers.
For more updates about MCGI's charity works and services, feel free to visit these pages: