MCGI ARTICLE
MCGI, UNTV and Equinet Team Up for Deep Water Systems Construction for Yolanda Survivors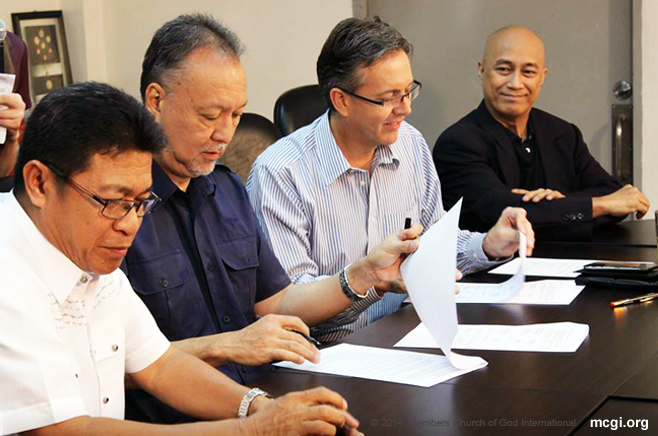 Tacloban, Philippines – With the goal of providing potable water to Typhoon Yolanda survivors, the Members Church of God International (MCGI) and UNTV teamed up with Equinet Architectural and Engineering Support, Inc. for the construction of deep well systems in the province of Tacloban.
The construction and setting up of deep well systems across Tacloban – the first provincial stop of the Visayas-wide construction project – has started since July 27 this year, following the signing of the Memorandum of Agreement between UNTV and Equinet last June 11, 2014.
Under the MOA, UNTV will provide deep well water systems in over 100 places in Visayas which were struck by Typhoon Yolanda (international name, Haiyan). Equinet will be the construction firm and MCGI as UNTV's partner in the required financing and other welfare services.
"We are happy that Equinet has become our partner in fulfilling our long-time advocacy to help the needy," UNTV VP for Administration Gerry Panghulan remarked.
Of the 100 places in Visayas to be recipients of the water systems, the city of Tacloban, Leyte is the project's first stop. It was also one of the super typhoon's most heavily-damaged areas when Yolanda hit the country on November 2013.
About five deep well systems have already been constructed in Tacloban city. Among these are Brgy. San Jose as well as the barangay's largest public school, San Jose Elementary School.
"After Yolanda, most of our water systems got damaged and became unusable. It is a big help for the people in our community, and especially the school, that UNTV and Equinet had set up these water system units," said Brgy. Captain Leo O. Bajin of San Jose.
Two more units of deep well systems are on the works to be set up in Magallanes Independencia and Brgy. Basper in Tacloban.
Typhoon Yolanda is known to be one of the strongest natural calamities to have been recorded in history. The most affected areas were the islands of Visayas and Mindanao which caused the displacement of several thousands of Filipinos.
During one of the deadliest typhoons to hit the nation, MCGI's Coordinating Center in Tacloban served as a relief camp for the storm's survivors, providing them with ready-to-eat food and shelter.
(Written by Yanna Faye Ferrera)