MCGI ARTICLE
MCGI Takes Part in Public Service Channel UNTV's Celebration of 10th Year
Weeks shy of their second quarterly International Thanksgiving to God (ITG) event, congregants of the Members Church of God International (MCGI) actively took part in a wave of public service endeavors in support of UNTV 37's 10th year anniversary.
As part of preparation to every Thanksgiving to God event, MCGI practices doing good works, as it is written in in Hebrews 13:15-16.
MCGI Overall Servant Bro. Eliseo Soriano himself has spearheaded many international humanitarian efforts for the indigents in society.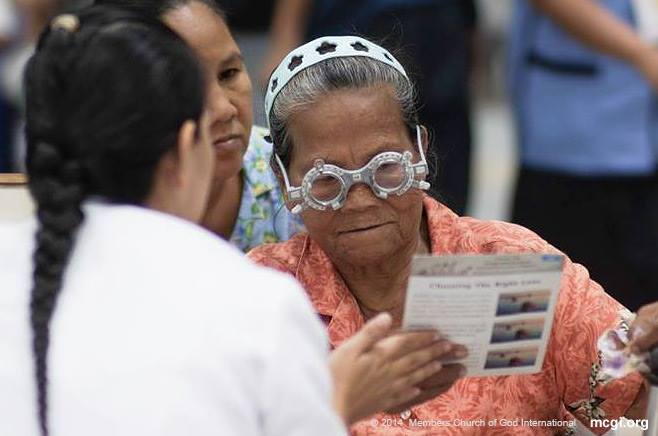 Hence, UNTV's advocacies and community-building efforts, which are closely aligned with the reach-out missions of the Church, receive strong support from Bro. Eli and MCGI.
Bro. Daniel Razon, MCGI Supporting Overall Servant, incidentally is Chairman and CEO of UNTV's content provider, Breakthrough and Milestones Productions International (BMPI).
Also a veteran broadcast journalist, Kuya Daniel is the brain behind the Public Service Channel's various projects.
"Elderpowerment" 
MCGI participated in the two-day "Elderpowerment Expo," which was the centerpiece event of UNTV's anniversary with  the theme, "Caring for the Elderly." The event aims to empower the elderly and raise awareness on their needs, as well as their being a vital part in the society.
Also helping raise awareness to the young and the old alike is the Golden Dove Award-winning cast of the KNC Show, who created a catchy caring for the elderly song and music video.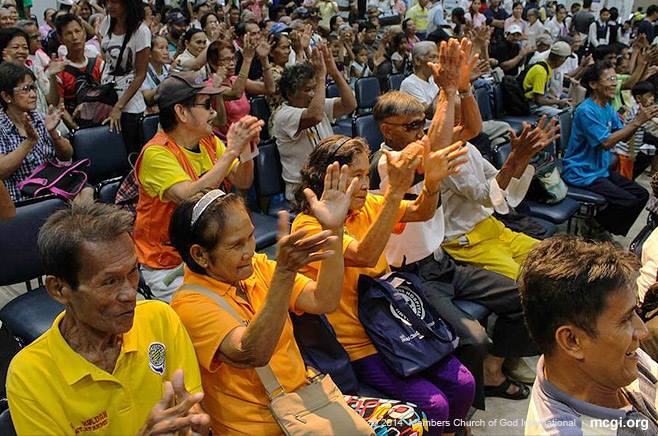 MCGI partnered with major government agencies such as the Government Service Insurance System (GSIS), Social Security System (SSS), Department of Health (DOH), and Philippine National Police (PNP), to name a few, to give free services to the elderly last June 25-26 at the World Trade Center, Philippines, which was also part of UNTV's 10th anniversary celebration.
Local to Global Outreach to Seniors
Aside from this, MCGI, in partnership with the Home for the Golden Gays and UNTV, relocated an adoption home for the elderly gays and lesbians from Pasay to Brgy. Talipapa, Novaliches. This effort was spearheaded by the Happy Christian gay group of MCGI.
In Guayaquil, Ecuador, MCGI conducted a feeding program for the elderly. The feeding program was able to help recipients totalling to almost a hundred, where more than half of which are reportedly abandoned.
Aside from this, a feeding program was also conducted in a Home for the Aged in Bogota, Colombia, São Paulo, Brazil, as well as a tent city in Port-Au-Prince Haiti. The feeding program in Haiti also benefitted those who are still displaced from the 2010 earthquake.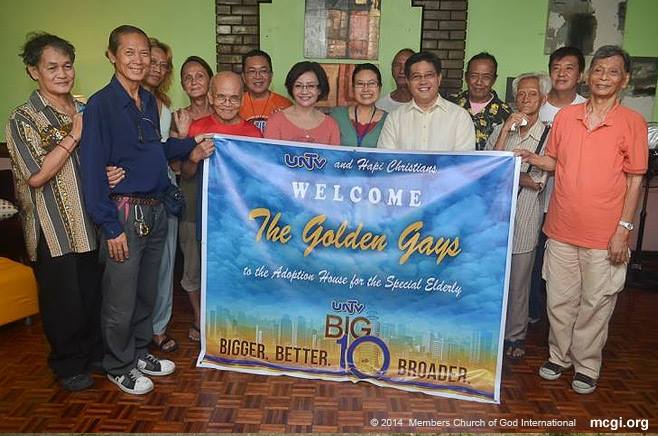 For the indigents of National Trades Union Congress Eldercare Facility – Silverace Centre in Singapore, MCGI conducted gift-giving and crafts-teaching activities, as well as provided entertainment for the elderly with lively songs and dances.
In Winnipeg, Canada, MCGI members expressed their support for the elderly by participating in the Alzheimer's Society's Memory Walk. It was a fund-raising event that aims to provide better healthcare services and programs for those suffering from this illness.
Even More Public Service
Aside from holding activities with the goal of empowering our society's beloved elderly population, MCGI championed different public service efforts in various corners of the world.
A mass blood donation drive is one such endeavor that MCGI consistently holds in partnership with the Philippine Red Cross and Blood Society of the Philippines.
In the Philippines alone, a total of 63 points conducted the blood drive between June 15 and 29, 2014, which garnered a total of 2,200 qualified blood bags for donation, as of writing time.
Outside the Philippines, countries such as UAE, Canada, Brazil, Cambodia and Singapore, to name a few, also participated in the mass blood donation event. In Singapore, 137 blood bags were collected and donated out of 170 registered blood donors.
MCGI also held clean up drives in various cities and provinces of the Philippines, such as Benguet, La Union, Zamboanga and Cavite. The cleanup effort was simultaneously held in different states in Australia.
On top of clean up drives, tree-planting activities were also held at the Eco Walk Trail in Sta. Fe, Nueva Vizcaya, wherein 500 Narra tree seedlings were planted. In Sta. Cruz High School in Bulacan, MCGI members and students planted 150 Mahogany saplings.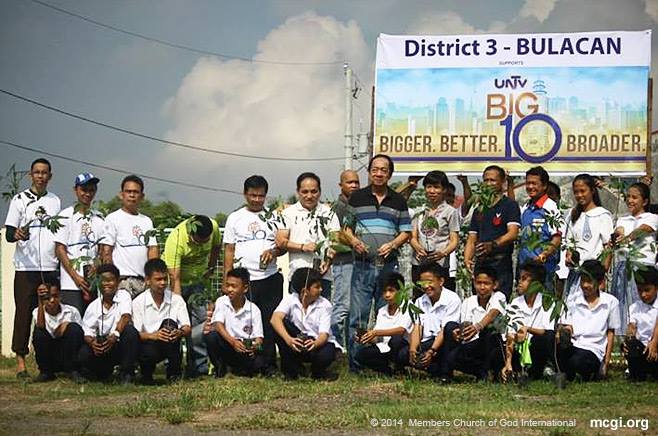 Aside from the elderly, the young ones were also beneficiaries of MCGI's public service efforts.
In Oriental Mindoro, MCGI conducted a four-day feeding program for the students of Babangunan Day Care Center, while students from Mararaot Elementary School in Tanay province were given bags and school supplies for the start of the school year.
Church members in Vietnam joined in and visited an orphanage for the boys, where they conducted a gift-giving program and provided entertainment the young ones.
MCGI's second quarterly International Thanksgiving to God will be on July 4-6, 2014, in major MCGI Coordinating Centers worldwide.
(Written by Pauline Arellano)