MCGI ARTICLE
MCGI Rallies Support Behind UNTV Cup's 5th Year of Better Basketball, Public Service
The Mall Of Asia (MOA) Arena was filled to the brim with supporters rallying up for UNTV Cup, the one-of-a-kind basketball league promoting public service and charity, last August 29.
Now on its fifth season, the basketball league for a cause celebrated its opening ceremonies where the bulk of attendees and supporters were brethren and youth groups from the Members Church of God International (MCGI).
Kuya Daniel Razon, UNTV's CEO, lauded the congregation's support for UNTV Cup Year 5. "Many thanks to everyone including, of course, all the members of the Church of God International who are here tonight," remarked Kuya Daniel, who is the Assistant Overall Servant to the MCGI.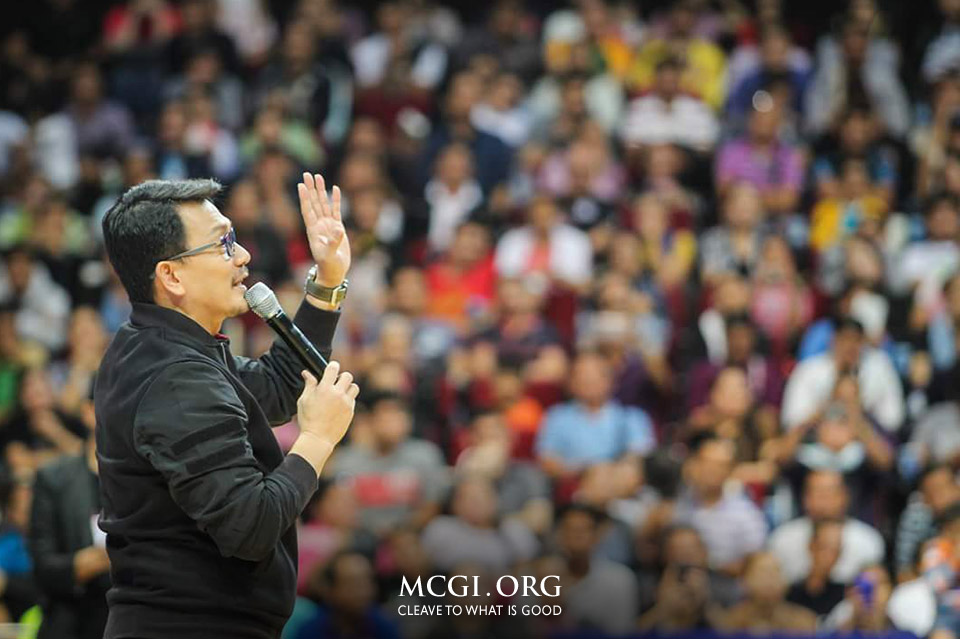 "Like we always say, we are thankful to God for all of our public service endeavors. UNTV is the sole public service channel that focuses on serving our fellowmen, with the support from MCGI through the stewardship of Bro. Eli Soriano," Kuya Daniel added.
The MOA Arena, at full capacity, can house 15,000 persons.
A Worthy Sacrifice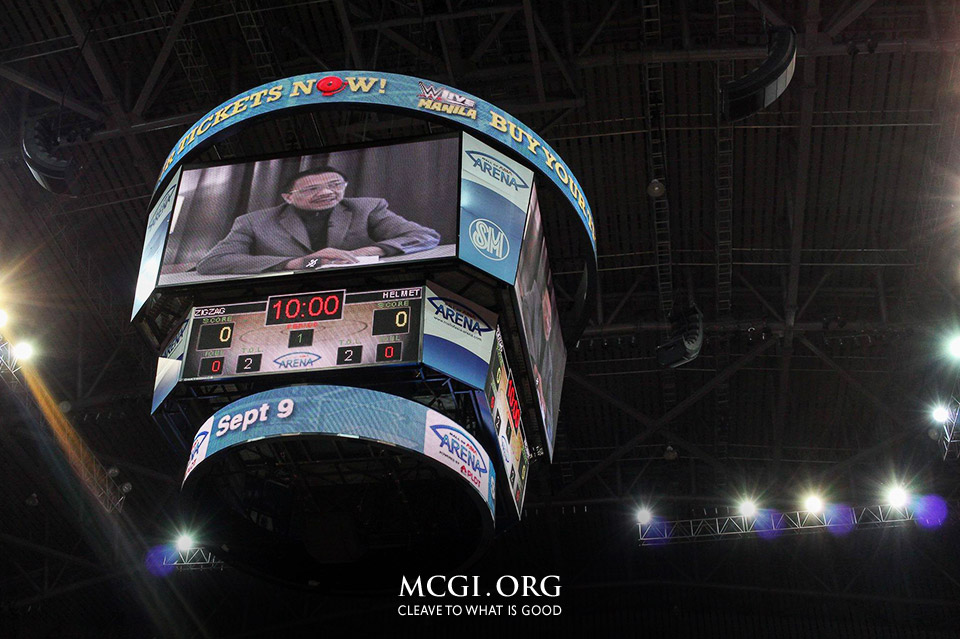 Meanwhile, Bro. Eli Soriano, Overall Servant to MCGI, gave his congratulations to all the government employees playing for the cause.
The international preacher emphasized that the charity work the public servants are doing is what the Lord Jesus Christ has propagated, citing Galatians 6:2: "As we have therefore opportunity, let us do good unto all men, especially unto them who are of the household of faith."
"It's a kind of sacrifice — to work hard, playing basketball and donating all of it to the charitable institution of your choice," said Bro. Soriano to the public servants via live streaming from South America.
"Thank you to our senators, to the government agencies participating to help our fellowmen. May God bless you all," added Bro. Soriano in his remarks.
Year 5 of Bigger, Better Public Service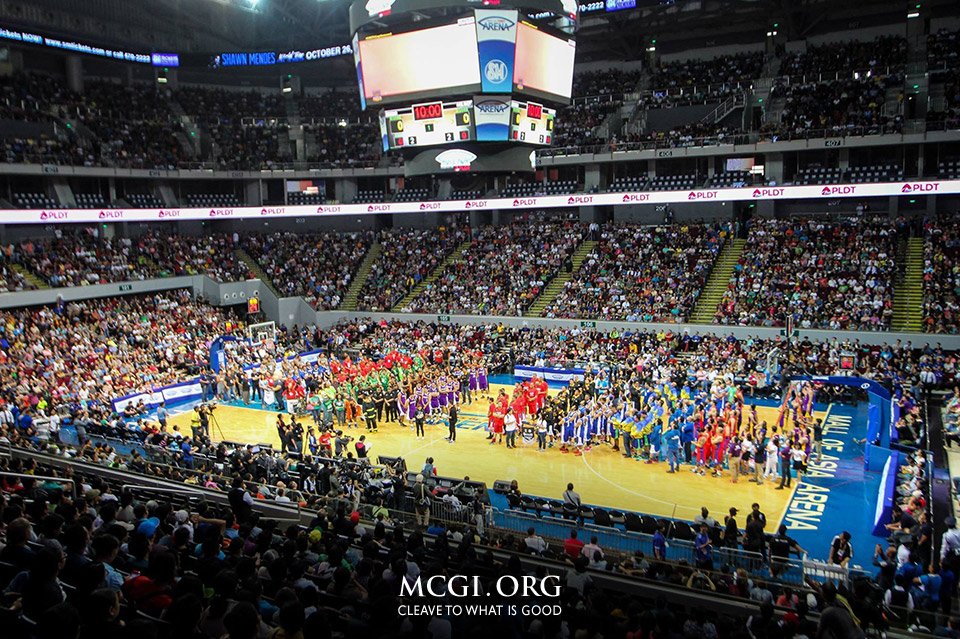 Now on its fifth year, the one-of-a-kind event has reached new milestones in public service.
This season, the "League of Public Servants" now offers a record-breaking 10 million pesos worth of donations to charitable institutions and organizations.
Since its inception in 2011, the original 8 participating teams have now expanded to 13, with the Bureau of Customs Transformers serving as the latest addition to the public service league's roster.
The public servants, who represent the country's major government groups such as the congress, senate, office of the ombudsman, to the PNP and AFP, to name a few, attended the opening ceremonies with excitement and gratitude to the league.
"It is such a noble intention, noble work, and we are very happy to be part of UNTV Cup," remarked newly-elected Senator Joel "Tesdaman" Villanueva, who has been a regular player since UNTV Cup Season 2.
"UNTV Cup is about giving [an] opportunity for all of us to show our skills and talents but, more importantly, to ensure that we'll be able to become channels of blessings for our partner recipient foundations," the neophyte senator added.
Charities Picked by Participating Teams
The recipient foundations of most of the basketball teams participating this year are as follows:
Armed Forces of the Philippines (AFP)
Team AFP Cavaliers
Beneficiaries: AFP – Educational and Benefit Systems Office (AFP-EBSO)
Philippine National Police (PNP)
Team PNP Responders
Beneficiaries: Police Community Relations Group Drug Rehabilitation Program
National Housing Authority (NHA)
Team NHA Builders
Beneficiary: NHA Provident Fund Association, Inc.
Metro Manila Development Authority (MMDA)
Team MMDA Black Wolves
Beneficiaries: Philippine General Hospital Neonatal Intensive Care Unit, Philippine Cerebral Palsy, Inc. and Damayan MMDA Provident Fund
Bureau of Fire Protection (BFP)
Team BFP Firefighters
Beneficiary: Philippine Science High School Foundation, Inc.
Malacanang (Office of the President)
Team Malacanang Kamao
Beneficiary: Philippine Children's Medical Center
Senate of the Philippines
Team Senate Defenders
Beneficiaries: Kythe Foundation, Inc., Pangarap Foundation and Share an Opportunity Philippines, Inc.
Government Service Insurance System (GSIS)
Team GSIS Furies
Beneficiary: Golden Reception and Action Center for Elderly and Other Special Cases (GRACES)
House of Representatives (HOR)
Team HOR Solons
Beneficiaries: Foundation of Our Lady of Peace Missions, Inc. and Congressional Spouses Foundation, Inc.
Office of the Ombudsman
Team Ombudsman Graft Busters
Beneficiary: Ombudsman Provident Fund
Bureau of Customs (BOC)
Team BOC Transformers
Beneficiary: Caritas Manila, Inc.
Last year's victor was the AFP Cavaliers, which donated 3.5 million pesos to their chosen beneficiary, the AFP Educational Benefit System Office. 500,000 pesos was given to the team's players.
(Written by Sis Yanna Faye Ferrera)