MCGI Servants are Finalists in Shorty's TV & Journalist Categories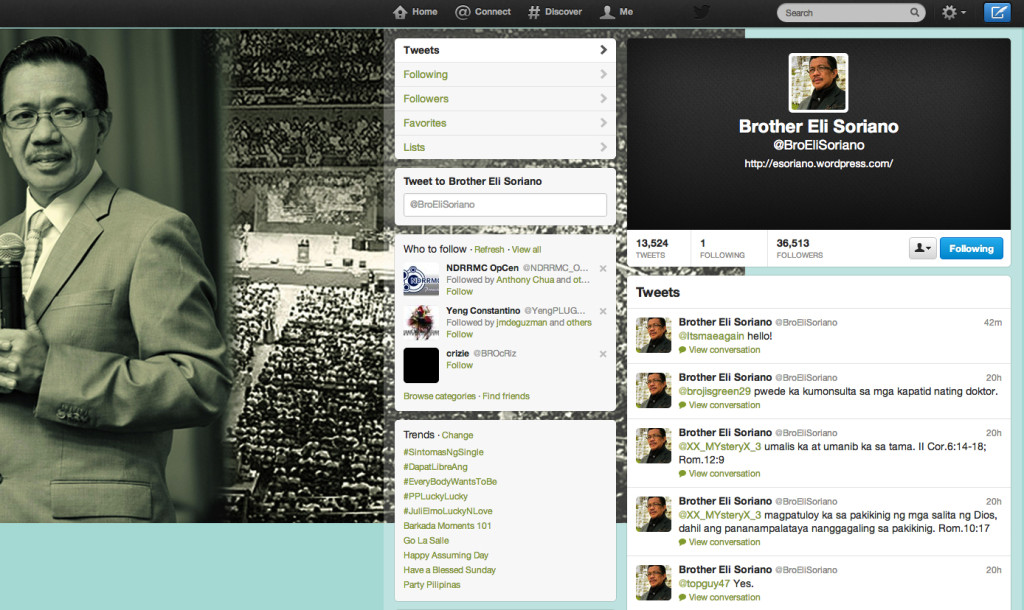 Bro. Eli Soriano and Bro. Daniel Razon are both finalists for the 3rd Annual Shorty Awards for 2011. Bro. Eli made it to third place for television while Bro. Daniel earned the sixth spot for journalist. The announcement was made last February 15, this year.
The Overall Servants to Members Church of God International have been on Twitter for almost two years. Their combined followers now stand at 32, 122, increasing regularly.
The eliminations were held for more than a month, which started January 3 this year. Nominations lasted until February 11 for all 30 official categories.
Nominations were cast through the official Shorty Awards website. Voters were asked to complete a statement telling their most compelling reason for endorsing the Twitter account of their favorite nominee – in exactly or less than 119 characters (The character counter showed only 54 characters to be typed in a tweet box, since the first 65 were allotted to a template).
In an interview with Shorty Awards, Bro. Eli Soriano revealed how he makes his tweets unique and worth following – by "basing my tweets in logic and common sense with the guidance of the Word of God," he answered.
He also hoped that someday in Twitter "truth in dissemination of information" will start trending, and that people will use it more often "to find avenues of understanding and connections for a swift delivery of messages beneficial to everyone."
In the same interview, Bro. Eli said he refuses to shorten words and phrases that refer to God and His name, even famous quotes from respected historical personages.
For him, Twitterific on his iPhone is his favorite Twitter application.
Finally, he advised Twitter newbies to "be as truthful and humane in using Twitter, as almost all venues of human communications are corrupted by lies and deceit."
Meanwhile, Bro. Daniel Razon in the Shorty Awards interview urged people to check out and follow his account through a verse: "Try to follow me and there you will see, how I compose my tweets and how unique [they] can be."
As a broadcast journalist by profession, Bro. Daniel uses Twitter to share wisdom, information, knowledge, issues, news, and views. The preacher also answered in the same interview that he is actually not inclined to shorten any word of his tweets, and he maximizes the characters allotted for each.
Furthermore, when he tweets, Bro. Daniel thinks of connecting with the people who look at his tweets in the right perspective. As a public servant by heart, Bro. Daniel imparts not only "a mind that thinks" but also "a heart that cares and a spirit that says there is much to share."
He advised Twitter newcomers to "make use of the space worth following, as each tweet we make reveals the kind of character we have."
The Shorty Awards is deemed as the "Oscars of Twitter", and gives due recognition to people and organizations who produce the best short and real-time content on Twitter and social media.
The Real-Time Academy of Short Form Arts and Sciences will determine from among the finalists who will crop awards. The awarding ceremonies will be held at the Times Center in New York City on March 28.
(Written by: Cecile Vizcaya)
Recommended