MCGI ARTICLE
MCGI Fourth Quarter Blood Drive Yields 2,070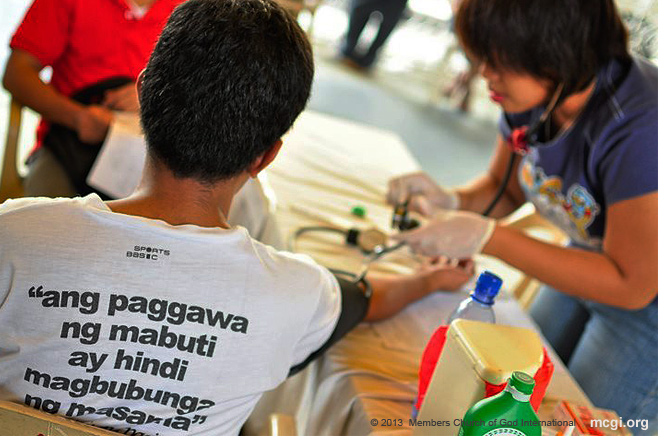 An MCGI blood donor in Apalit, Pampanga getting his blood tested by a Philippine Blood Center staff on December 15, 2013.
As part of its blood assistance commitment to the Philippine Red Cross (PRC), the Members Church of God International (MCGI) successfully held a mass blood donation effort at 58 locations nationwide last December 15, 2013.
Out of 2,904 registrants, the blood drive collected 2,070 bags of blood, data from ADD Foundation showed.
The PRC and the Department of Health's Philippine Blood Center has the full support of the religious group presided to by Bro. Eliseo F. Soriano since 2009.
Last year, a total of 9,920 blood bags have been accumulated benefitting both rich and poor people in need of blood, a contribution that earned for MCGI the Jose Rizal Award granted by Philippine Blood Center (PBC) in 2012.
Extensive preparations were undertaken which made this lifesaving event successful. MCGI has opened different sites all over the Philippines and even in abroad to accommodate the unpaid blood donors who came Sunday.
The quarterly mass blood drive is part of MCGI's numerous public service works spearheaded by Bro. Eli andVice-Presiding Minister to MCGI Bro. Daniel Razon.
Other public service works initiated by the MCGI Leaders include the medical missions, free legal assistance, free transport commuter rides, and more of the like.
(Words by Regine Recede)