MCGI ARTICLE
MCGI Celebrates Ang Dating Daan's 31 Years in Broadcast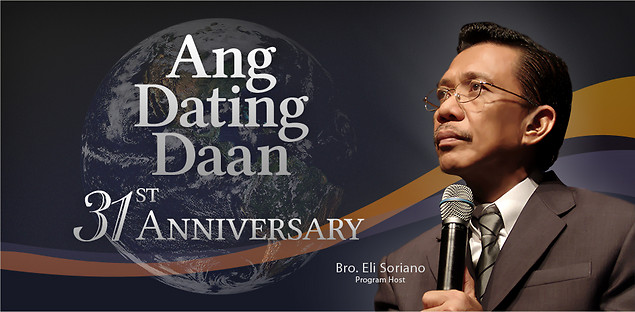 For Members Church of God International (MCGI), October 22 was not just a regular Saturday for thanksgiving. It was a celebration of 31 years that MCGI has been serving to propagate the Gospel through its award-winning religious program, Ang Dating Daan.
The festivities began at four in the morning, with a long parade of MCGI congregants who marched into the ADD Convention Center in Apalit, Pampanga. By six o'clock, the tail-end finally made its way into the decked facade of the biggest convention center in Luzon. Along with the drum and bugle corps, flag bearers, and a cheering squad, the delegation was greeted with cheers, applauses, and fireworks.
A flood of multi-colored flags filled the hall of the ADD Convention Center. At the signal, triumphant songs of praise and dances opened the ceremonies. Visitors who came to witness the celebration were wowed with the lively production number presented by MCGI's Music and Theater Ministries.
Government officials, philanthropists, and media personnel from various print and online publications graced the occasion. As the program moved along, ADD awarded plaques to public officials and individuals from private organizations for their consistent support to ADD's spiritual and social welfare advocacies.
Documentaries of different working groups in MCGI that are behind the success of the Ang Dating Daan program were shown. After each video presentation, the groups presented lively song and dance numbers of thanks and praise.
On the World Wide Web, an outpour of greetings and well-wishes dominated Twitter and Facebook as fans and followers posted their messages to the official fan page and message wall of Ang Dating Daan.
Bro. Eli Soriano, Bro. Daniel Razon, and Sis. Luz Cruz fondly recalled the past 31 years that has gone by since the program started airing in 1980. Bro. Eli Soriano said that when the broadcast first aired through radio, he never thought that that humble beginning would eventually be one of the biggest efforts in Philippine evangelization history.
Sis. Luz Cruz, the first executive producer of Ang Dating Daan remembered the birth pains of Ang Dating Daan, like their lack of standard equipment and needed skills to produce a 30-minute program on television. She added that they had to resort to improvisations to get things done, not to mention, multitasking: researching, doing make-up, set designing, directing, editing, setting the lights, recording, and sleeping late.
The program encountered series of suspensions and censorships in the Philippines, as the program's nature is that of Bro. Eli Soriano's fearless expositions of the Bible, which often revealed and attacked inconsistencies in the doctrines of other religious groups.
Ang Dating Daan has been an avid promoter of biblical awareness in the last 31 years. Derived from Jeremiah 6:16, the program name has served to mean an in-depth study and exposition of the Bible on radio and television. From a humble group of three, it has now turned to a massive evangelization work that is making waves across the world.
Aside from broadcasting biblical truths, Ang Dating Daan has also launched many public service programs that especially benefit the underprivileged. Projects like public transport (land, air, water) and medical services, legal aid, transient home, orphanage, feeding program, college education and more — all rendered for free — have been introduced to the public through the program's initiative.
(Written by: Cecile Vizcaya)