MCGI ARTICLE
MCGI Cares Debuts as New MCGI Program on TV and Social Media; New Mass Indoctrination Sessions Open on March 14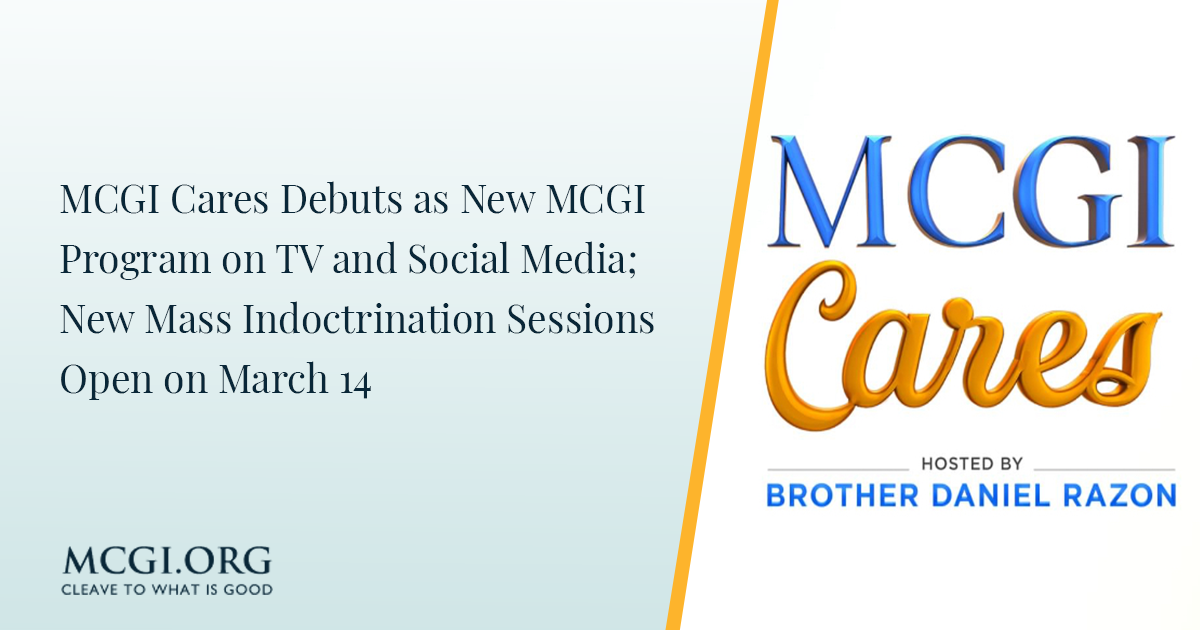 Zealous and enthusiastic as always to share the Gospel of salvation to all and inspire others to do even small acts of kindness to their fellowmen, Members Church of God International (MCGI) welcomes the month of March with the launching of MCGI Cares program and the start of the new sessions of Mass Indoctrination on March 14.
Inspiring Others to do Good Deeds and Acts of Kindness, MCGI Launched a New Program, MCGI Cares
From being an advocacy, MCGI launched MCGI Cares as a brand new program featuring various segments packed with true stories and biblical inspirations. Hosted by Brother Daniel Razon, the program aired its pilot episode on March 4, 2022 and was broadcast live on UNTV 37, MCGI Channel on YouTube, and on all social media channels of MCGI.
As an advocacy, MCGI Cares reaches out to our needy fellowmen through MCGI Free Store, MCGI Wish Granting, MCGI Free Potable Water Project, and feeding programs. By setting examples of doing good deeds, the advocacy hopes to inspire those who have the means to extend kindness to those whom they know are in need. It also encourages the "pay it forward" system from those who have been helped.
The new program does not only offer its audience biblical learnings but it also helps them develop a more positive outlook in life through the true stories of people who triumphed over the trials they encountered in life, stories of faith, and short films laden with biblical insights which are regularly featured. The program also features social experiments about different issues like cyber bullying and several people are asked what they would do if they were caught up in these situations.
MCGI Cares runs for one and a half hour and airs for a week or two before MCGI starts its Mass Indoctrination sessions.
Through the program, MCGI also aims to introduce the Church to more people and the Christian teachings that the brethren in the Church believe in and follow. "We are going to inform them about the reason why we are here, who we are, what MCGI is, what our beliefs are and why we invite them to listen to our indoctrination sessions," Brother Daniel explained the objectives of the program.
New MCGI Mass Indoctrination Sessions Open on March 14
After another successful indoctrination and baptism event last month, MCGI sets to open new Mass Indoctrination sessions on Monday, March 14. Livestream of each session will be available on all YouTube, Facebook, Twitter, and Instagram accounts of MCGI, Ang Dating Daan, and The Old Path.
MCGI's Indoctrination is an in-depth study of the teachings of the Lord Jesus Christ. In each session, Brother Eli Soriano discusses a topic such as the proper way of praying, the different types of heart that people have, how to get along with other people, sins against the Holy Spirit, and the true baptism.
Everyone is invited to join Monday to Friday, 7 p.m. Philippine time. Sessions can be watched in over 25 languages and Filipino dialects.
For more information about MCGI or our Mass Indoctrination, visit our FAQs or contact our support staff.