MCGI ARTICLE
Mashable.com Hails Bro.Eli Soriano the Most Educational to Follow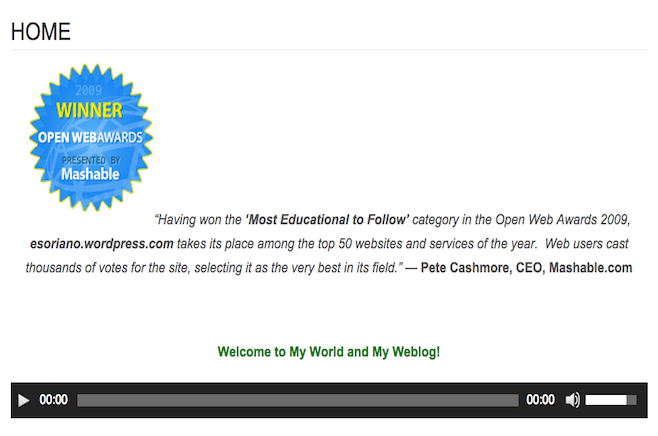 Pampanga, Philippines — Bro. Eliseo Soriano's truth blog, Esoriano.wordpress.com, was hailed the year's "Most Educational to Follow" by Mashable.com in its annual Open Web Awards on December 16.
"Having won the 'Most Educational to Follow' category in the Open Web Awards 2009, esoriano.wordpress.com takes its place among the top 50 websites and services of the year," said Mashable.com CEO Pete Cashmore. The CEO is also columnist covering new media trends for CNN.com.
Mashable.com, host of the Open Web Awards 2009 in partnership with MOTOBLUR, ranks as one of the largest blogs in the World Wide Web, with a reported seven million monthly page views. According to the web site, the online international competition this year received over 440,000 nominations, with over 70,000 nominees and over 780,000 final votes. Readers voted in 50 categories to select the best in each field.
"Web users cast thousands of votes for the site, selecting it as the very best in its field." said Cashmore, referring to Bro. Eli's winning blog.
Prior to blogging, Bro. Eli has been preaching the Gospel through radio, television, newspapers, magazines, MP3 players, podcasting and video streaming web sites, taking full-advantage of technology to share his Bible-based education. On April 2007, he opened Esoriano.wordpress.com to further extend his multimedia audience.
Esoriano.wordpress.com dominated the Philippine Web Awards earlier this year, taking People's Choice and The Most Popular Web Site of the Year.
Due to its comprehensive and scientifically-insightful content, Esoriano.wordpress.com was among the top five, out of the thousands of nominees, in the category "Most Educational to Follow" selected by Mashable.com through data verification and editorial judgment.  It finally seized its first international recognition through online voting via web users' Facebook and Twitter accounts.
Bro. Eli published a new blog article immediately after being informed of the prestigious award. He titled his latest entry "The Best Educational Book of All Time," referring to the Bible.
"I, even at times, am hesitant to use some English words in writing my blog because of my limited knowledge in the English Grammar; but what inspire me most in composing my blog is my intense desire to share the truth that I have learned from the "most" educational book to follow — my Bible," wrote the 62-year old blogging preacher.
Other Open Web Awards 2009 winners include The New York Times for Best Online Newspaper category and Facebook for Best Mobile Social Network App category. All winners are welcome to use Mashable's Winner's Badge on their web sites.
 (Written by: Philip I. Garcia)