MCGI ARTICLE
MCGI Remembers Brother Eli: Love Abounds, The Legacy Continues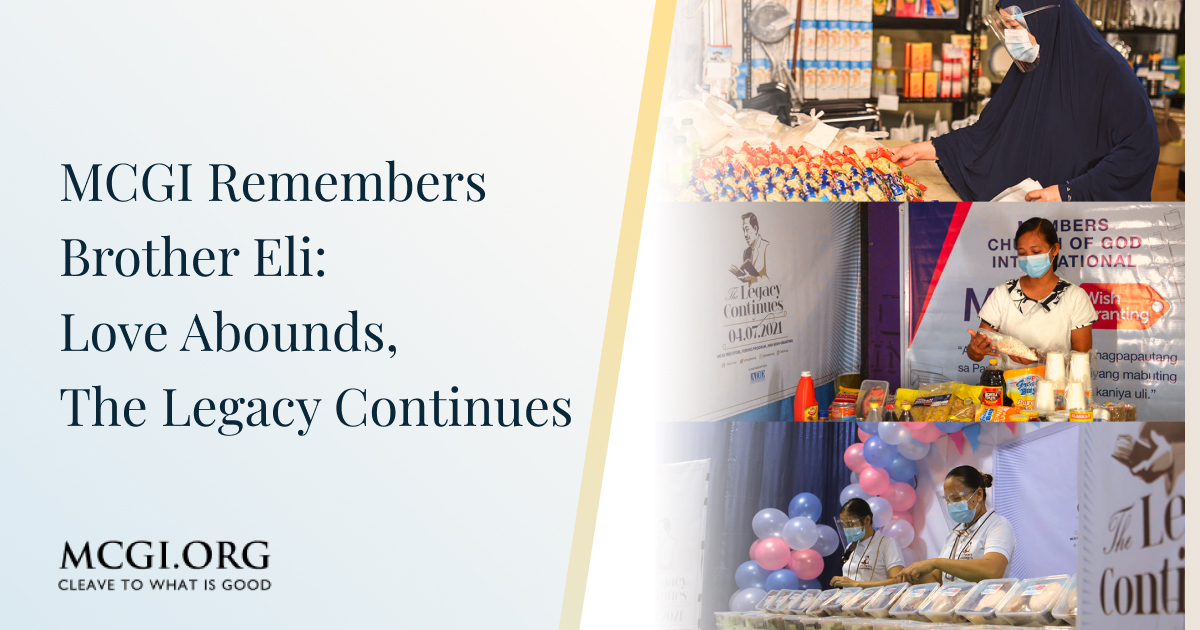 "My conscience — guided by God's word — taught me how to love, care for others, be compassionate to the less fortunate, and be considerate to the right of others."
These are words of resounding love from Brother Eli Soriano, international evangelist and servant to the Members Church of God International (MCGI). After living a life preaching and following the Gospel, God gave his well-deserved rest on February 11 of this year. 
Remembering and expressing gratitude to the Almighty for his life and works, MCGI held a special event titled "The Legacy Continues" from April 4 to 10, 2021. 
The Gift of Giving
Days before his birthday last year, Brother Eli shared a wish.
"It's only now that I will ask for a gift from you. Because whenever I have a birthday, I want to be the one giving gifts. The gift I ask of you brethren is — whatever good thing that you wish to do for me, do it for your neighbors instead," he said in the vernacular.
Continually heeding to his humble request, MCGI marked the week-long commemoration with worldwide charitable events, drawing inspiration from Brother Eli's Bible-based preaching: to grab every opportunity to do good unto all men (Galatians 6:10, Proverbs 3:27).
"The Legacy Continues" coincided with what would have been the evangelist's 74th birthday and 57th year in service to God and humanity. 
For seven days, Church members across 7,377 locations took part in a global feeding program that served a total of 628,567 individuals as of April 10, 5:30 p.m. PHT. Free meals, beverages, and desserts were given to underprivileged households, persons with disabilities, street-dwellers, Covid-19 front-liners, and jail inmates among many others.
 From April 7 to 10, the previously unveiled MCGI Free Store also opened 2,021 branches — nearly thrice the number of locations that were in operation during its initial launch — to cater to more people in need. For this segment, the brethren were able to donate around 1.4 million items, including groceries, household items, and apparel, to 77,063 beneficiaires. 
Meanwhile, a massive wish-granting activity was also conducted throughout the week. A total of 1,200 beneficiaries from different parts of the globe received small-scale livelihood grants and free tablets that they can use for online schooling needs.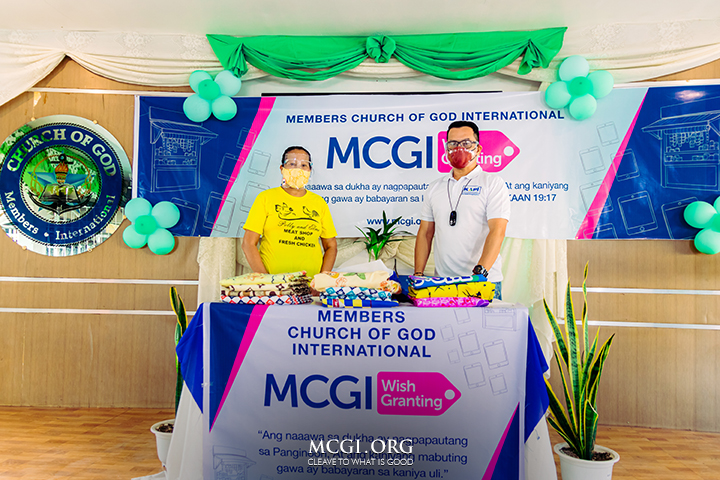 "Nagpapasalamat po ako ng marami — taos-puso sa kalooban ko — na ako ay kanilang natulungan. Sana po sa darating na panahon ako naman ang makatulong sa aking kapuwa na mga nangangailangan. Maraming maraming salamat po sa Dios (I'm very thankful — from the bottom of my heart — because [MCGI] helped me. In the future, I hope that I can also reach out to my fellowmen who are in need. Thanks be to God)," Argentina Ferolino, one of the beneficiaries, remarked.
The seamstress who resides in Malabon, Metro Manila lost her source of income because of the pandemic. During the event, she received livelihood assistance that she can use to sew and sell pillow covers.
MCGI chapters worldwide further mounted more humanitarian acts in support of the "The Legacy Continues" event. In Apalit, Pampanga — where the Church's main convention center is located — tricycle patrols were donated to a total of nine barangays.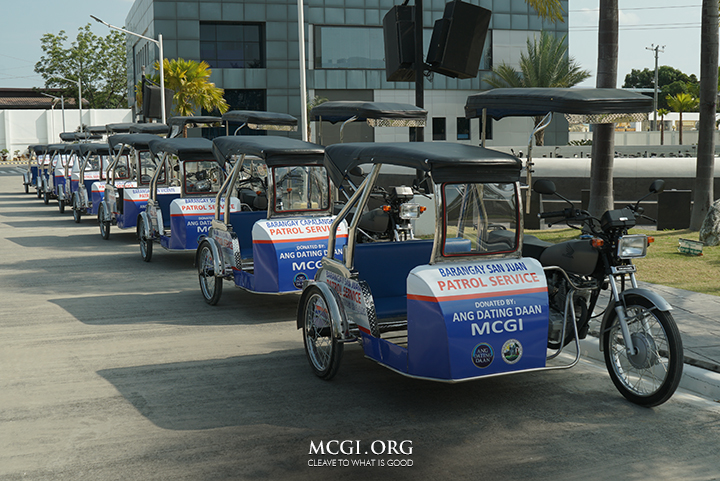 Meanwhile, free potable water systems were installed in the provinces of Rizal, Laguna, and Camarines Sur, benefiting around 4,800 families. This initiative was also duplicated in Bolivia, Peru, Honduras, and Colombia, the recipients of which are 970 impoverished families. 
In one community in Sta. Cruz, Bolivia, the beneficiaries included households that, for decades, have sourced their water through different means — such as waiting for rainwater and heating water coming from a nearby canal.
Above All, Charity
The commencement of "The Legacy Continues" coincided with the Church's first quarter International Thanksgiving, which was held from April 2 to 4, 2021.
During the event, Brother Daniel Razon shared the importance of charity — the virtue that ties all of the endeavors sustained by MCGI. 
"Let all your things be done with charity."
— 1 Corinthians 16:14 (KJV)
"And above all these things put on charity, which is the bond of perfectness."
— Colossians 3:14 (KJV)
Before Brother Eli's temporary repose, the preacher had also been unwavering in his desire to fulfill works of charity — examples that he left for the Church members to follow. 
Apart from preaching the Gospel through various platforms covering different countries and time zones, Brother Eli lived God's words by initiating campaigns for the betterment of his fellowmen. 
With God's help and through the collaborative effort of Church members, the projects he had started and sustained include feeding programs, orphanages and infant care centers, expenses-free academic institutions, healthcare and diagnostic facilities, blood donation drives, and medical and legal missions.
The ongoing pandemic also did not become a hindrance in his pursuit of good works.
In October last year, the MCGI Temporary Treatment and Monitoring Facility (TTMF) was inaugurated in partnership with UNTV. The isolation facility for Covid-19 patients is duly certified by the World Health Organization (WHO). 
MCGI and UNTV also launched 24/7 telemedicine hotlines to answer health-related queries from the public. 
During exclusive Church gatherings, he had also always reminded the congregation to reach out to underprivileged members. From giving monetary assistance to doling out grocery items, he remained dedicated in looking after the welfare of the brethren. 
Carrying on his works after his passing in February, MCGI conducted worldwide charitable activities even prior to "The Legacy Continues" event. On March 14, the MCGI Free Store was first opened to the public. Meanwhile, the Global MCGI Feeding Program was held on March 25. 
During the April 7 episode of UNTV's public service program, "Serbisyong Bayanihan," Brother Daniel emphasized that MCGI's humanitarian efforts are for everyone: "Ang mga kapatid sa MCGI ay walang pinipiling relihiyon, lahi, kulay, o wika. Kami po ay handang tumulong sa lahat. At sa awa at tulong ng Dios, magpapatuloy po kami sa pakikipagtulungan sa ating mga kababayan, gaya po ng napasimulang mga proyekto ni Brother Eli Soriano (MCGI does not discriminate against any religion, race, or nation. We are ready to assist everyone. And with God's help and mercy, we will continue helping our fellowmen through the projects initiated by Brother Eli Soriano)."
"Sa amin po ang karangalan na pagsilbihan ang ating Dios Amang Manlalalang — at pagsilbihan ang ating mga kababayan (It is our privilege to serve our God the Creator — and our fellowmen)," he further enthused.
The episode featured select wish-granting beneficiaries and special audio-visual presentations recounting the life and works of Brother Eli.
For a life spent fighting the good fight of faith, a life filled with enduring hope for God's promise, a life that shone with love for the Lord and humanity — MCGI is eternally grateful. With God's help and mercy, Brother Eli's legacy lives on.