MCGI ARTICLE
Free Farm Tools and Grocery Items for Farmers of Agusan Del Norte and Camarines Sur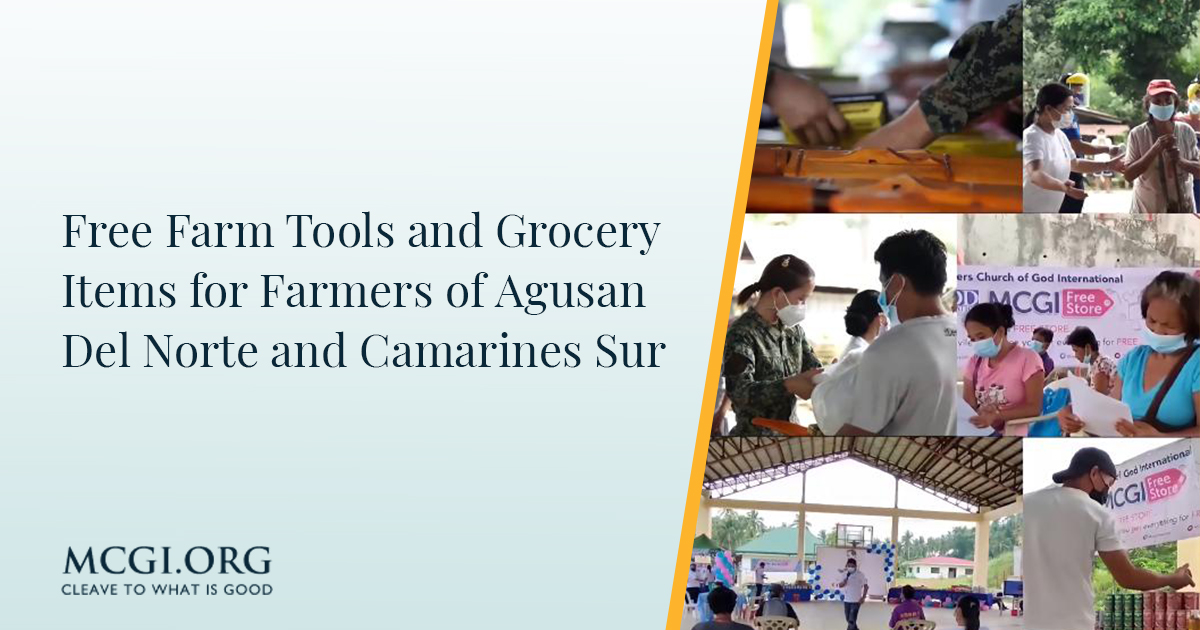 Members Church of God International (MCGI) always promotes looking out for each other especially to those who are in need, as thought by the commandments of our Lord Jesus Christ. 
MCGI brethren from the town of Las Nieves in Agusan Del Norte saw the predicament of some farmers who were in need of a few tools and seeds to get back to their living and helped them out immediately.
A total of 30 farmers were given bolos, whetstones, and seeds to jumpstart their work. The farmers shared that it is quite tough for them to buy some seeds and tools because their income from harvesting and selling bananas is just enough to get through a day.
One of the beneficiaries, Jonas Pasto, was pleased for the help given to them because, he said, nowadays, nothing is given for free anymore, everything has a price. Through the help given to them by MCGI, he is hoping that they will be able to have a better income in the days to come.
"Salamat sa Dios sa MCGI na nakarating sila dito, namigay ng maliit na ayuda. Pero sa amin, malaki na ito, makakapag-trabaho na ako nang regular sa pagsasaka. Iba talaga ang walang sariling gamit," Jonas said in thanks. (Thanks be to God for MCGI came all the way here and gave out simple relief goods. But for us, this is already a huge help, now I can farm regularly. It is hard to farm without your own tools.")
On the other hand, the copra farmers from Ragay, Camarines Sur were given some grocery items to aid them in their daily needs. A total of 250 residents were given free meals as well. Like the other crop growers, the livelihood of these farmers was also badly affected by the pandemic.
MCGI finds delight in helping those in need as these are God-given opportunities to do good unto all. With God's help and mercy, MCGI will continue with these charitable endeavors.
"As we have therefore opportunity, let us do good unto all men, especially unto them who we are of the household of faith."
— Galatians 6:10, KJV
For more information regarding the MCGI Free Store and other charitable works of the Church, please visit www.mcgi.org/public-services.