MCGI ARTICLE
Free Breakfast from MCGI Feeding Program to Natives of Oriental Mindoro and Indigents in Lucena City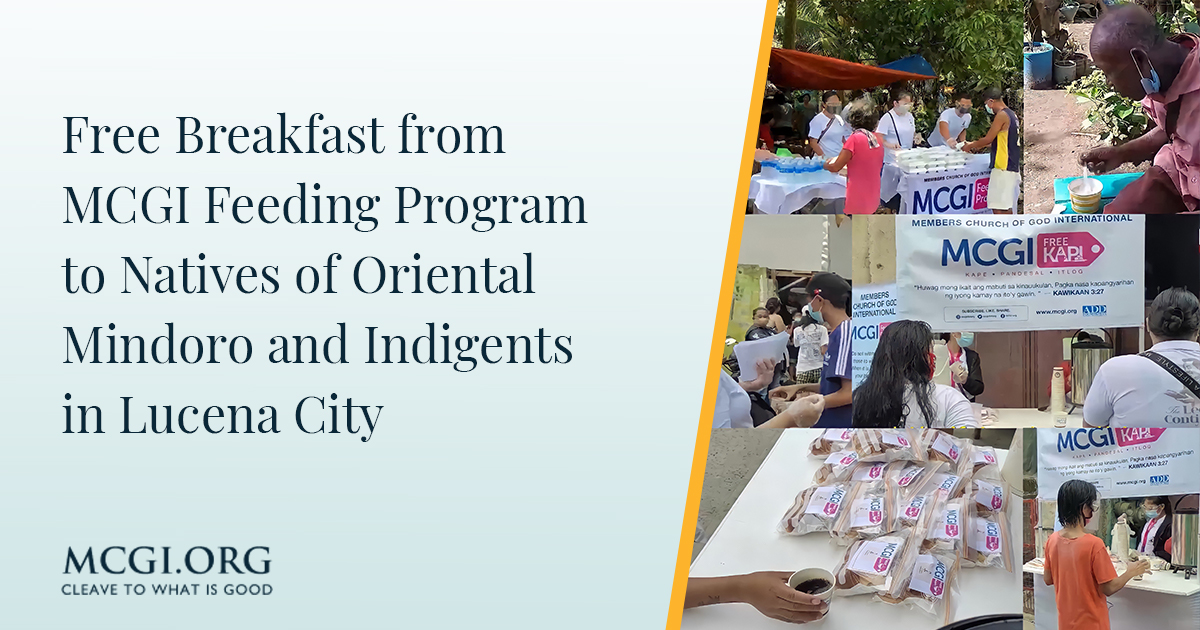 As the Feeding Program of the Members Church of God International (MCGI) continues, MCGI brethren visited and brought sumptuous breakfast to a community of native Ati-Atihan in Sitio Ebong, Barangay Pag-asa in Bansud, Oriental Mindoro, Philippines.
 One of the recipients, Leopoldo dela Cruz, shared how hard it is to have nothing to eat at times. For a living, he plants sweet potatoes, cassava, and bananas. Due to his strenuous activities, he gets hungry and often gets headaches and pelvic pains.
It was a great comfort to Leopoldo's tired body to be given a free breakfast of hot spring rolls and rice porridge.
The MCGI Feeding Program is a "blessing" as described by Pastor Rodolfo Dela Cruz of the Faith Community Christian Church.
"Tuwang-tuwa ako, sinabi ko agad sa mga tribu. Malaking tulong po sa amin, gaya ngayong pandemic. Ang iba walang makain, kahit kape wala. Malaking tulong po para sa amin, at syempre pagpapala po kayo para sa amin," Pastor Rodolfo expressed with gladness. ("I am very delighted, I informed the tribe right away. It is a great help to us, especially in this pandemic; others have nothing to eat, not even coffee. This is a great help to us, and of course, you are a blessing to us.")
The officers of Barangay of Bansud were also appreciative of the free breakfast MCGI provided to the community. 
Eddie Palame, councilor in Zone 6, Bansud said, "Ito ay napakalaking katulungan sa tulad naming namumuno dahil nga sa kami ay wala naring mailabas na pondo para sila ay matulungan. Kaya para sa amin, lubos kaming nagpapasalamat. Unang-una ang dapat nating pasalamatan ay ang ating Panginoon na Siya po ang nagdala para po matulungan ang aming mga ka-barangay." ("This is a great help for leaders like us because we no longer have funds to release to help them.  That is why we are very thankful, first of all, to God for sending you in our place to help our citizenry.") 
Meanwhile, 197 kilometers northeast of Oriental Mindoro, is Lucena City, Quezon, where MCGI also conducted a Feeding Program.
MCGI volunteers met Leonie Quining who lives in a shack with her husband, three small children, and four grandchildren in Purok Damayan Landing Road, Barangay Ibabayang Iyam.
With only 40.00 pesos or less than a dollar in her pocket given by her husband, Leonie is mindful about their food budget every single day. She gathers taro leaves with her children and sells kangkong, or water spinach, and other vegetables to give her children snacks. Due to the hardships in life, her son has also entrusted to her his four children.
 Leonie and her household were among the more than 200 individuals given free breakfast during the MCGI Feeding Program held in their place. Aside from the breakfast, MCGI also provided them with free grocery items from the MCGI Free Store Lucena branch.
"Salamat po sa Dios sa tumulong sa amin, maraming salamat, Leonie expressed. ("Thanks be to God; to those who helped us, thank you very much.") 
MCGI is always grateful to God for giving them the opportunity to follow what is written in the Holy Scriptures.
"As we have therefore opportunity, let us do good unto all men, especially unto them who are of the household of faith."
— Galatians 6:10, KJV
For more information regarding the MCGI Feeding Program and other charitable works of the Church, please visit www.mcgi.org/public-services.