MCGI ARTICLE
Experiencing the Word of God Digitally: MCGI Releases the Digital Bible App
As part of its zealous effort to spread the word of God in more ways than one, the Members Church of God International (MCGI) launched an easy-to-use, fast, and simplified Bible-reading app on July 1, 2022. 
Aptly called Digital Bible, the mobile app is 100% free and can now be downloaded to both Android and iOS devices.
A Digital Bible Accessible for All
Developed and built by the MCGI through the help of God, the Digital Bible app is now available for download — for free. MCGI Servant Brother Daniel Razon highlighted the importance of making it accessible to everyone, even to the non-members of the Church.  
"Gusto nating maging inclusive, hindi natin gustong maging exclusive lang ito, para na rin sa ating mga kapwa tao," Bro. Daniel emphasized.
(We want this [app] to be inclusive — rather than exclusive — for our fellowmen.)
While other mobile applications are in need of stable internet connectivity to fully function, the Digital Bible app would still be accessible and completely functional even when offline. As one app user pointed out, "I like this app; it's an amazing and friendly app. I can read the Bible wherever I go," says Raymart Fernandez.
The digital scripture currently supports multiple languages namely English, Filipino, Spanish and Portuguese.
The app also gears towards lessening eye strain while reading so app users can easily toggle between dark, sepia and light options and change font or font size according to their personal preference. 
In its early stage, it offers convenience when comparing two bible versions at the same time with its Split-view option and when a user wants to review or go back to his previously-browsed bible verse, the Browsing History option comes in handy. 
Addressing the challenge of searching for a specific biblical phrase or perhaps a simple biblical term, the app added a Search feature that helps search for information and get an accurate result. 
"Yun pong 'Search' magagamit niyo na po, para na kayo talagang nagba-browse ng Bible. Mas pinasimple po natin. Mas simple, mas madaling gamitin," MCGI Servant Brother Daniel Razon further said.
(You can already use the 'Search' feature, you're just like browsing the Bible. We simplified it. More simple, more usable.)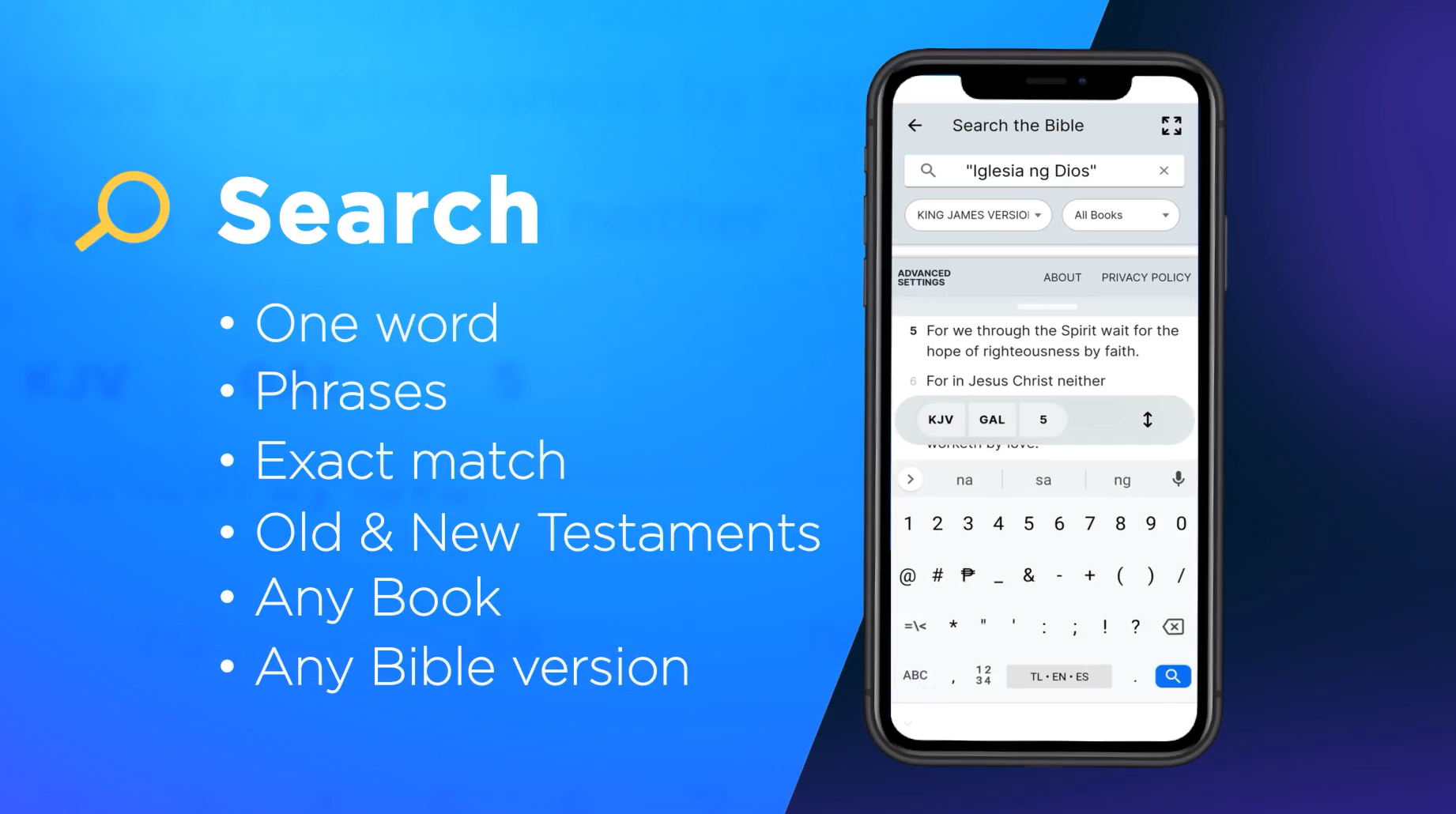 More improvements in the offing
MCGI hopes to make more improvements in the Digital Bible app in the coming days, God willing.
Upcoming features include the Notes option where users can write a text while reading the Bible and organize their notes by folders. The Shareability feature will also not go amiss as it will also give a way for the users to publish their notes to share them with their family and friends.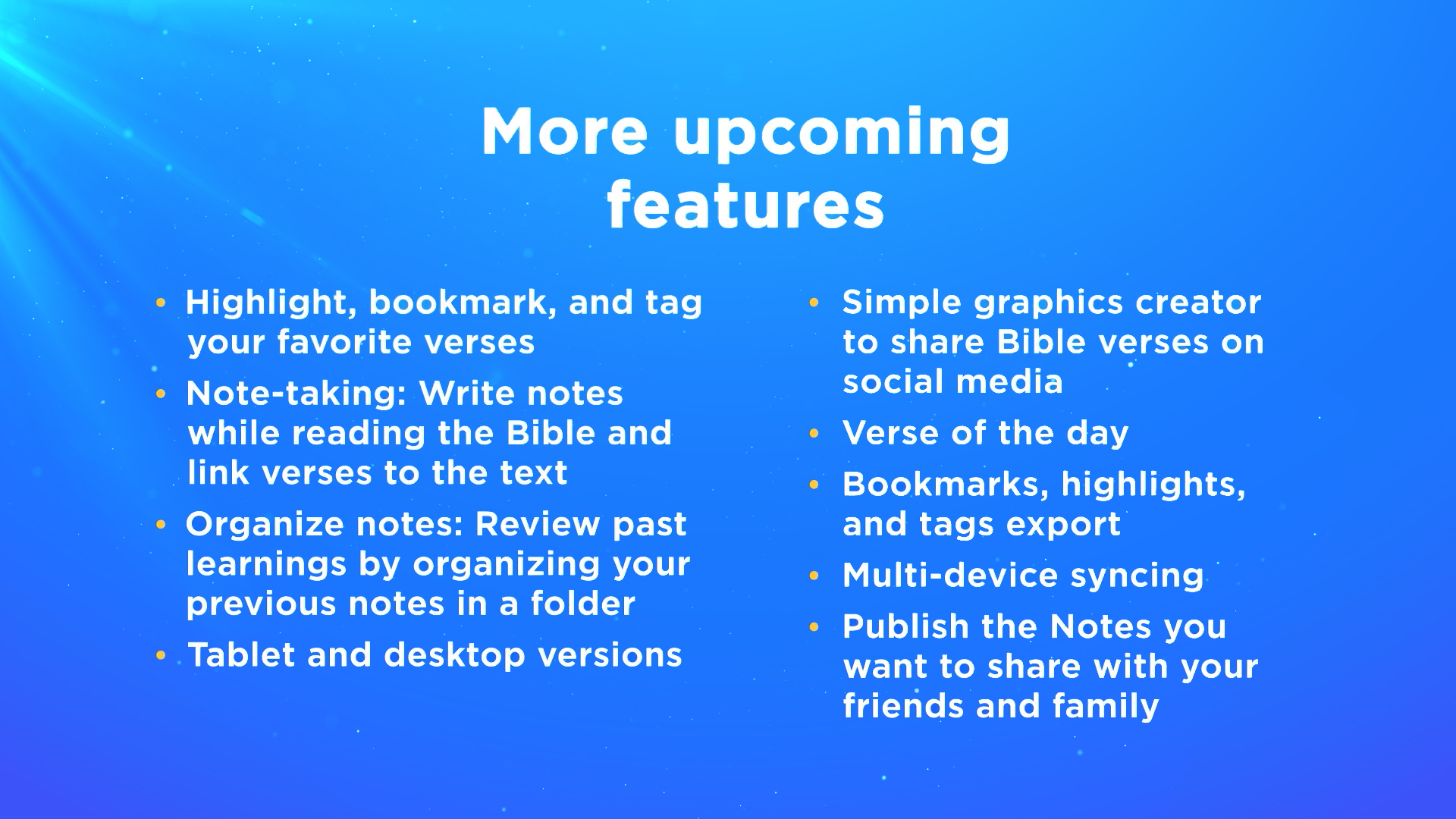 Bookmarking, highlighting and tagging favorite Bible verses are also underway in the succeeding updates, with a simple graphics creator to easily and creatively share biblical verses on social media.
The Digital Bible app will not also limit its versions to mobile phones but also plans to create a Tablet and Desktop version with multi-device syncing capabilities. 
"We would like to simplify everything to the best of our ability. Para po mas madaling gamitin, maging user-friendly at yung mahahalagang features ay atin pong mai-incorporate batay po sa ating pangangailangan," Brother Daniel says.
(We would like to simplify everything to the best of our ability. So that the app can be used easily and be user-friendly while incorporating the features base on our needs.)
The Digital Bible app is available to download on Android and iOS devices. To get an update about the app, follow MCGI's official social media accounts and channels here.