MCGI ARTICLE
Charity Always Wins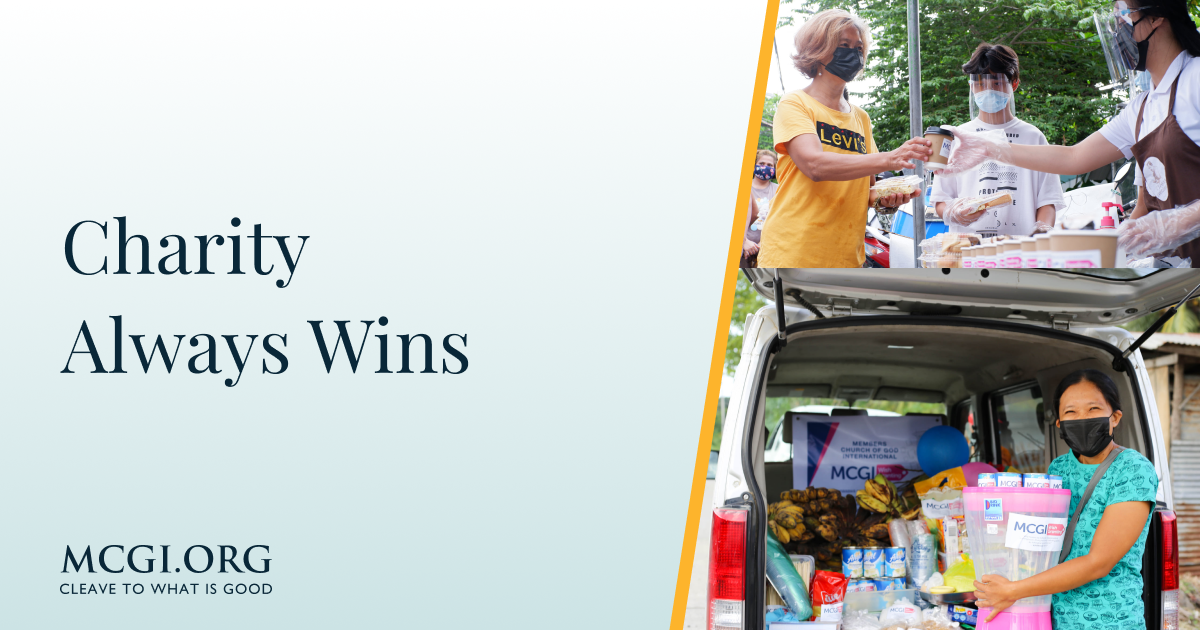 Love always triumphs over adversity.
At a time when many people are desperate to survive, it is a relief to experience unconditional concern even from strangers. This is why the Members Church of God International continues to champion a noble cause of helping people regardless of their race, religion, gender, or age. Despite many barriers that hinder the delivery of relief aid, by God's grace, help always arrives to those in need at a perfect time.
Read these short but inspiring accounts of MCGI's continuing acts of charitable advocacies.
A simple request
Narcisa and Benigador Benlacello are senior citizens who make a living by selling firewood out of the branches of trees which are cut from a nearby local cemetery. The couple walks a kilometer for an hour in the morning and goes back home in the afternoon, carrying what they have gathered.
Upon returning home, Benigador cuts the wood to smaller pieces which Narcisa bundles and sells. For an entire day of working, the couple earns Php 60 (USD 1.22).
"That's how much we make in a day. If we don't earn, we have nothing to eat," says Narcisa.
The poor, old couple had one simple request — rice for their daily meals.
Through God's help and mercy, Narcisa and Benigador were given not just a sack of rice but also groceries and medicines through the MCGI Free Store. Some of their other needs were also provided during the Free Store opening in General Santos City.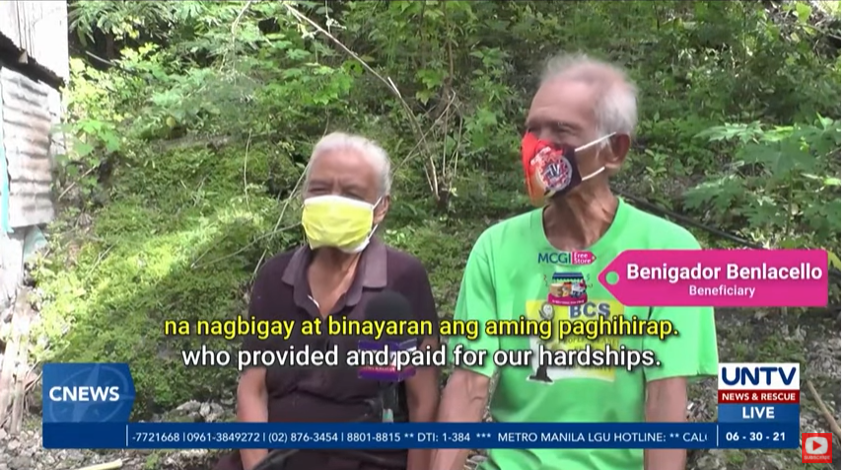 They were among the 147 individuals who were served in Purok Guadalupe in Barangay Conel, General Santos City.
"We are grateful especially to the Lord for providing our needs and easing our hardships," said Benigador.
A granted wish renews hope
All loving parents want to see their child grow up with a happy and good life. In the case of Daiana, however, her sickness has limited her ability to do that. "When I was five years old, my mother brought me along to fetch my siblings from school. That was when she noticed that I limped as I walked. I had a check-up and the doctor said my bones were weak. I was given medicine but my condition only got worse. I couldn't move my arms and legs, and I could not speak. I couldn't move my whole body. The only thing left functioning was my sight," Daiana recalled.
She had undergone thirteen surgeries and almost lost her life last year. "The doctors said I had no chance to live. They told my family that I wouldn't make it because they've done everything already. They turned off my life support apparatus, but when they did that, I woke up."
Aside from battling with chronic pain, Daiana continues to experience depression, affecting her physically, mentally, and emotionally. All these factors make the situation harder for her.
"I am almost giving up. For three years I've been in pain, in misery. Until now, no one has helped me with my problems."
However, all her pain is nothing compared to the agony of being unable to help her daughter. "What hurts me the most is that I am not able to look after my daughter well. Not being able to take care of her because of the pain I feel is the worst pain."
In the midst of all the problems she is encountering, she still desires to help her daughter, and is willing to do anything.  She only needs a new wheelchair. "The wheelchair I am using has flat tires. It's practically ruined. I can't even move with it."
Her wish for a new wheelchair was given fulfillment by the Members of the Church of God International.
"I first thank God because it was Him who made you come here. Thanks to the Members of the Church of God International. I am so grateful. God does things that are unexpected, and I'm very happy."
A family blessed for hard work
The couple Roberto and Corazon Tinamisan used to live in Laguna, but because they wanted to provide a better life for their children, they left the province to try their luck in Cavite. In Cavite, they can help their children in their studies.  After working in the field, they go fishing to earn extra money.
Roberto works as a caretaker at a nearby resort. He earns Php 330 (6.54 USD) everyday, but not enough to sustain his family's needs. "We work, but we also borrow money. Every payday I settle my loans, but then I have to borrow money again."
In spite of this, Roberto's family does not lose hope. Even if his children had to stop schooling, they are optimistic that one day they will be able to go to school again. Babyrose, the couple's daughter, wants to continue her studies. "It's just that we're really poor and life is hard for us at the moment. It's just that our situation is difficult."
On one hand, Corazon's wish is to have a stable source of income that will sustain their family's daily needs. "I would like to raise pigs," she said.
The Members Church of God International provided the Tinamisan family two healthy piglets, money to buy animal feeds, and groceries from the Free Store. "Many, many thanks to the Lord for giving us these blessings. Thank you so much for your help," Roberto said.
Overflowing grace
Shanta and Hom Magar of Pokhara, Nepal live near a river.  Their primary source of livelihood is shoveling sand and selling it. But during the rainy season, the river overflows and the heaps of sand they collected are washed away.  Aside from that, they are also confronted with a big problem of finding a safe shelter for their three children and mother-in-law.
"We used to work at the river banks. We collected and sold sand. But when the rainy season starts, we can no longer safely work there," Shanta Magar explains.
The rainy season also means not getting enough income to cover their daily expenses. "We don't even have rice, cooking oil, salt, or sugar in our house. Our eldest daughter is presently enrolled. She needs a school bag, notebooks, and a pen."
Through God's mercy, the Magar family was supplied with grocery items and school supplies for the children so they could continue with their studies.
"We thank you all, brothers and sisters from the Members Church of God International for helping us in a time of need. Thanks be to God," the Magar family expressed.
How did this story make you feel? Share your thoughts and head over to the official Members Church of God International Facebook page today!