MCGI ARTICLE
Bro. Eli Presents Gifts to Church Widows on Second Quarter Thanksgiving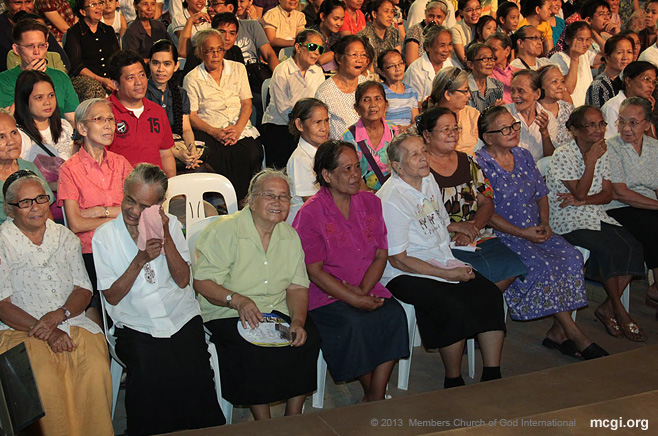 Eighty-two widows of the Members Church of God International (MCGI) received gifts from Bro. Eliseo Soriano during the recently concluded "Pasalamat ng Katawan" (Thanksgiving of the Body), a quarterly international service, held from July 5 to 7, 2013.
Staff from the Charity Home for the Elderly were instructed to reserve seats for the recipients of the preacher's thanksgiving gifts in the front rows of the ADD Convention Center stage. The Presiding Minister to MCGI explained what the Bible regards as widows, citing I Timothy 5:9-10.
The congregants cheered after Bro. Eli called on the widows to receive grants. The international evangelist further explained how elders should be treated, especially whom the Bible considers as widows. Most of these widows under the care of MCGI's Charity Home for the Elderly were abandoned by their families and relatives.
Charity Home's Sis Liberty Basbas stressed that Bro. Eli Soriano and Bro. Daniel Razon make it a point to regularly extend care to the elderly. Sis Basbas added that it is not only during international thanksgiving that Bro. Eli grants gifts to widows. Bro. Daniel, who is in the Philippines, visits the Charity Home personally to converse with and even sing to the elderly.
Sis Basbas shared that aside from meals, clothes and footwear, vitamins, medical check-ups, and weekly allowances, the elderlies also have recreational activities, conversations and proper care. She further noted that Bro. Eli constantly reminds staff members to show kindness and compassion to the elderly, and to treat them like their own parents.
Established in 2005, the Charity Home for the Elderly situated at the Ang Dating Daan Compound in Apalit, Pampanga is home to male and female elderlies. It currently houses 47 elderlies, whose ages range from 54-95 years of age.
Other homes for the elderly were also put up in different key locations in the Philippines, supported by MCGI.
(Written by Apple D. Arco)
(Photo by Rovic Balunsay)