MCGI ARTICLE
Ang Dating Daan Turns 33: Will Promote Breastfeeding in 1000 sites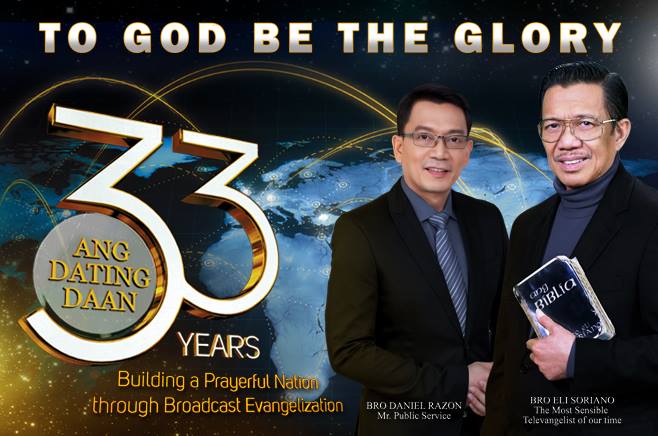 Ang Dating Daan (ADD), on its 33rd anniversary, is set to join the upcoming Nationwide Simultaneous Breastfeeding Program on October 24, 2013 as major participant in promoting the welfare of infants.
Led by Bro. Eli Soriano, the Presiding Minister of Members Church of God International (MCGI), the group of ADD is positioned to assist the program by organizing its 1000 satellite centers in the country. According to plans, each center would accommodate at least 30 mothers and infants who will be beneficiaries in the event.
Dr. Elvira Henares-Esguerra, the founder of the Nurturers of the Earth, explained that encouraging mothers to breastfeed is promoting good health both for the mothers and their children.
MCGI, the organization behind the ADD broadcasts, homes a number of abandoned babies through its "Infant Care Center" in Apalit, Pampanga. The babies being sheltered by MCGI came from random causes such as abandonment and other misfortunate cases.
Incidentally, ADD's 33rd anniversary headlines "Building a Prayerful Nation Through Broadcast Evangelization." The theme illuminates MCGI's dedication to pursue homegrown projects as well as assist the charity projects of other organizations that share the same advocacy that MCGI has been promoting.
Sustaining projects of Ang Dating Daan are the free medical, legal, and employment services. These are being done in partnerships with other media and charity groups such as UNTV and Kamanggagawa Foundation Inc. along with government offices such as Department of Environment and Natural Resources and Department of Health. The organization is also known for establishing the country's first free transient homes that are located in Quezon City and in Apalit, Pampanga. Libreng Sakay buses and jeepneys are also busily rolling on the main roads to continuously treat less-privileged commuters on daily basis. These projects are being supervised by Kuya Daniel Razon, Vice-Presiding Minister of MCGI and host of many UNTV programs.
Bro. Eli believes that giving these services to the people is essentially significant as propagating the word of God. He often reminds people that the organization should be in service to anyone seeking any form of assistance in order to fulfill the message of compassion that the Bible promotes.
Ang Dating Daan is now being aired on international domains and is formatted to several languages. The program is known as The Old Path on its English broadcast and O Caminho Antigo on its Portuguese version. There are also several translated titles to cater to the widening audience with diverse nationalities. It can also be viewed on its web stream through www.angdatingdaan.org. Through these broadcast, MCGI is reaping converts with various nationalities coming from different continents.
Ang Dating Daan program was first heard over the radio in 1980. It was first viewed on the television in 1983. At present, the program is homed at UNTV. The program's anniversary special presentation can be viewed every Sunday 8am to 9:30pm at UNTV, the public service channel.
(Words by Robert Clarita)