MCGI ARTICLE
MCGI Music Channel Launches 24-Hour Streaming of Praise Songs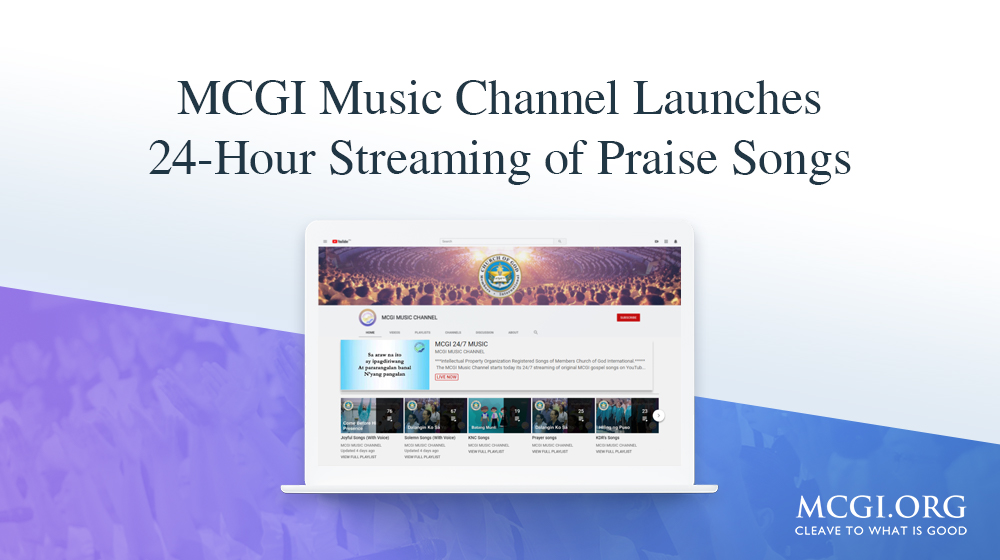 The MCGI Music Ministry launched a 24-hour livestream of praise songs through its YouTube channel on June 28 this year.
The latest feature added via the MCGI Music Channel is aimed at giving Church members an easier access to Church songs and hymns that they can listen to anytime, anywhere across the world using their internet-connected desktop computers or mobile devices.
The official MCGI Music Channel on YouTube aims to provide free access to hundreds of Church and praise songs not only to the members of the Church of God but also to the general public. Gospel songs categorized into playlists, such as "Joyful Songs," "Solemn Songs," and "Prayer Songs," can be played on the YouTube channel.
The MCGI Music Channel has also made available a playlist of original compositions by Bro. Daniel Razon, the Assistant Overall Servant of MCGI. Bro. Daniel, who is an Awit Awards winner, has composed many gospel songs such as "Hiling ng Puso," "Kay Palad Ko," "Lahat Ng Bagay," and "Alay Sa 'Yo," to name a few.
The importance of singing praise songs to God
During a thanksgiving celebration on August 9, 2008, MCGI Overall Servants Bro. Eli Soriano and Bro. Daniel Razon announced before the congregation the launch of the 24/7 prayer service and the non-stop singing of praises to God.
The nonstop singing to God is based on 1 Chronicles 9:33, which reads:
"Those who were musicians, heads of Levite families, stayed in the rooms of the temple and were exempt from other duties because they were responsible for the work day and night."

"There should be prayer and singing in the whole world 24 hours a day, so that prayers and praises to God will be non-stop," said Bro. Eli in the said event.
Hence, on August 10, 2008, MCGI marked the launch of the regular nonstop singing to God activity. This was spearheaded by the MCGI Chorale that consists of thousands of Music Ministry members across the globe. During its inception and prior to the pandemic, the ADD Convention Center in Apalit, Pampanga, served as the main venue where MCGI Chorale members — in batches and by schedule — would sing praise songs and hymns 24 hours a day, 7 days a week.
On June 27, 2011, MCGI Overall Servants also launched a special website to ensure that congregants from different parts of the world can conveniently join the 24/7 Community Prayer and sing along to the nonstop praise songs emanating from Pampanga. This online service was also subsequently added to the official MCGI mobile app. Today, the official website of MCGI hosts the Community Prayer page.
Despite the lockdowns and restrictions on mass gatherings, the nonstop singing to God still continues to this day with the aid of modern technology and with the help and mercy of God.