MCGI ARTICLE
MCGI Launches 24/7 Multilingual Community Prayer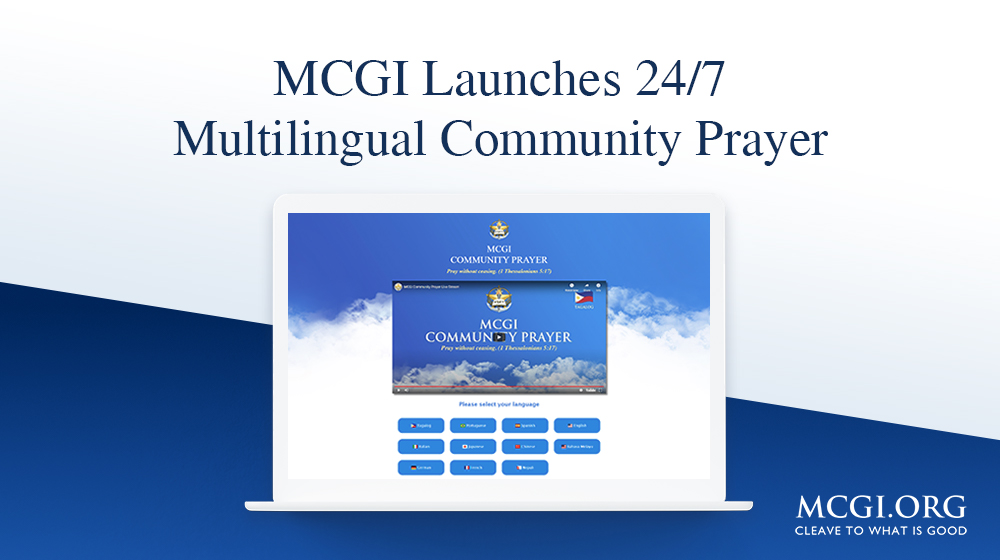 The Members Church of God International (MCGI) has launched its 24/7 multilingual community prayer broadcast with hourly schedules to encourage more people around the globe to pray to God in their own tongue.
Bro. Daniel Razon, Assistant Overall Servant of MCGI, made the announcement over a live Instagram broadcast to have the 24/7 Community Prayer Broadcast  in different languages for brethren in different countries to connect in prayers from their respective homes. The MCGI community prayer now has four available live prayer translations, English, Tagalog, Portuguese and Spanish within top of the hour. More languages will be available soon.
Why pray?
During one Thanksgiving event, MCGI Overall Servant Bro. Eli Soriano emphasized that Christians must live a prayerful life and must "improve in prayer." Praying is a basic doctrine in MCGI. It is an act by which we humble ourselves before our Creator and a way of showing Him our gratitude and appreciation for His loving kindness. It is also through prayers that we are able to express our requests to God. This was mentioned by St. Paul in his letter to the Philippians, which stated: "Be careful for nothing; but in every thing by prayer and supplication with thanksgiving let your requests be made known unto God." (Philippians 4:6, KJV)
Aside from the hourly prayer, the new multilingual service plays non-stop songs of praise and worship to God, also rendered in several languages.
Prayer, a must
When the cases of Covid-19 spiked around the world, Bro. Eli and Bro. Daniel saw it fit to deal with the crisis not just by implementing health and safety protocols for all members of the Church, but also by continuously seeking God's help and mercy through prayers.
The Global Prayer for Humanity which is in its second month now, was launched to meet the purpose. This is on top of the regular community prayer broadcast that is streaming round-the-clock. The Global Prayer for Humanity service begins at 9:30 p.m., Philippine Time.
This endeavor invites non-members regardless of race, ethnicity, and religion to share a few minutes of their time to participate and offer prayers to God to invoke His divine intervention in the present global health crisis brought about by Covid-19.
Previously, the community prayer broadcast was streamed on selected hours using only English and Filipino languages. But with the new Multilingual Community Prayer accessible via the MCGI website,  brethren across the globe can join in the prayer in their own language right at the comfort of their homes.