3 MCGI Official Websites Vie for PWA People's Choice Awards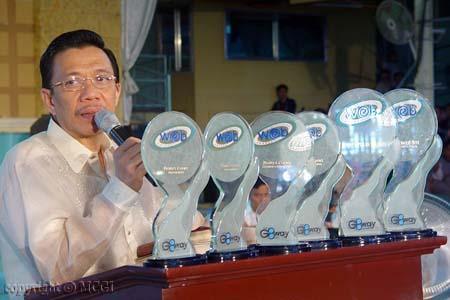 Three Members Church of God International (MCGI) websites are vying for the top honors in different categories of the 12th Philippine Web Awards. This edition marks the seventh year that the organization participated in, in this local competition that recognizes best use of website.
Led by Bro. Eli Soriano's blog, esoriano.wordpress.com, the official website of the organization, www.mcgi.org, and Bro. Daniel Razon's website, www.danielrazon.com, are candidates for People's Choice Awards. It will be recalled that Bro. Eli's blog was awarded in 2009 as the year's Most Popular Website and years prior to that, the organization's www.angdatingdaan.org was awarded the same highest honor.
Bro. Eli, who hosts the Ang Dating Daan (The Old Path) TV program, started blogging in 2007. In his blog, he tackles topics of interest using biblical facts, scientific findings and current events. The Open Web Awards of Mashable.com awarded Bro. Eli's blog the Most Educational to Follow in 2010.
Bro. Daniel's website is vying for its sixth People's Choice Award under personal category. From 2004 to 2009, his website was people's favorite and was awarded best website in 2007. DanielRazon.com features his public charity, advocacy, and journalistic works.
Meanwhile, the official MCGI website is competing for the first time this year under corporations, foundations, and organizations category. In the previous editions of PWA, www.angdatingdaan.org was MCGI's entry under the organization's category. Launched in 2009, the www.mcgi.org site was developed to target the organization's global audience.
UNTVweb.com, the website of UNTV 37, where MCGI programs led by Itanong Mo Kay Soriano (Ask Bro. Soriano) are aired, is a contender in the news, zines, and entertainment category. The TV channel's live webcast enables the broadcasting of TV shows from the Philippines to the rest of the world. Even before its re-launch last month, untvweb.com has won the Best Website award in the news and media category during the 10th PWA.
Voting in various categories for the People's Choice Awards is daily and will be closed by midnight of April 7, 2011 (Philippine time). To vote for these sites, go to http://peopleschoice.philippinewebawards.com.
The Philippine Web Awards is organized by Media G8way Corp. takes place Friday, April 8 in Makati, Philippines.
(Written by: Pol Arellano)
Recommended